01.12.2016 | Research article | Ausgabe 1/2016 Open Access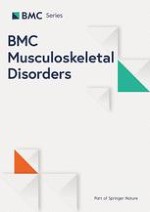 Clopidogrel treatment may associate with worsening of endothelial function and development of new digital ulcers in patients with systemic sclerosis: results from an open label, proof of concept study
Zeitschrift:
Autoren:

Konstantinos Ntelis, Vasileios Gkizas, Alexandra Filippopoulou, Periclis Davlouros, Dimitrios Alexopoulos, Andrew P. Andonopoulos, Dimitrios Daoussis
Wichtige Hinweise
Competing interests
The authors declare that they have no competing interests.
Authors' contributions
DA, APA and DD participated in the conception and design of the study. DA and APA revised the manuscript. KN and DD performed the literature search, the statistical analysis and wrote the manuscript. KN, AF and VG performed the experimental part of the study. PD helped to interpret the data. All authors read and approved the final manuscript.
Abstract
Background
Activated platelets release serotonin that binds 5-HT2B receptor on fibroblasts leading to fibroblast activation. Clopidogrel, an inhibitor of ADP-dependent platelet activation prevents fibrosis in animal models of systemic sclerosis (SSc). We aimed at assessing whether i) ADP-dependent platelet activation is increased in patients with SSc compared to healthy subjects and patients with rheumatoid arthritis (RA) and ii) whether clopidogrel can effectively suppress ADP-dependent activation, reduce circulating serotonin levels and hence, favorably affect fibrosis or vasculopathy in patients with systemic sclerosis.
Methods
Thirteen patients with SSc were recruited. Platelet activation was assessed by aggregometry prior to and following 14 days of clopidogrel treatment. At the same time points serotonin and soluble vascular cell adhesion molecule 1 (s-VCAM1), a marker of endothelial dysfunction, were measured.
Results
ADP-dependent platelet activation was similar between patients with SSc (
n
 = 13), patients with RA (
n
 = 28) and healthy subjects (
n
 = 22) (mean ± SEM AU*min: 392.1 ± 58.4, 535.5 ± 61.33 and 570.9 ± 42.9 in patients with SSc, patients with RA and healthy subjects respectively,
p
 = 0.14). Clopidogrel treatment significantly reduced platelet activation in patients with SSc (mean ± SEM AU*min: 392.1 ± 58.4 vs 163.8 ± 51.7,
p
 = 0.014). Clopidogrel treatment did not affect serotonin levels but led to a significant increase in s-VCAM1 (
p
 = 0.03). Three patients developed new digital ulcers during the study. The potential association of the study drug with the development of new digital ulcers led to early termination of the study.
Conclusion
Clopidogrel may worsen markers of endothelial function and associate with development of new digital ulcers in patients with SSc.
Clinical trial registration