28.11.2016 | Review | Ausgabe 3/2017 Open Access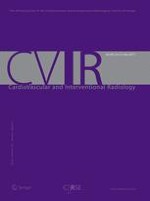 Closure Devices for Iatrogenic Thoraco-Cervical Vascular Injuries
Zeitschrift:
Autoren:

Gregory C. Makris, Rafiuddin Patel, Mark Little, Carina Tyrrell, James Sutcliffe, Kader Allouni, Mark Bratby, Susan Anthony, Raman Uberoi
Abstract
Introduction
The unintentional arterial placement of a central venous line can have catastrophic complications. The purpose of this systematic review is to assess and analyse the available evidence regarding the use of the various vascular closure devices (VCDs) for the management of iatrogenic thoraco-cervical arterial injuries (ITCAI).
Methods
A systematic review was performed according to PRISMA guidelines.
Results
Thirty-two relevant case series and case reports were identified with a total of 69 patients having being studied. In the majority of the studies, plug-based VCDs were used (81%) followed by suture-based devices (19%). The majority of studies reported successful outcomes from the use of VCDs in terms of achieving immediate haemostasis without any acute complications. Long-term follow-up data were only available in nine studies with only one case of carotid pseudoaneurysm being reported after 1-month post-procedure. All other cases had no reported long-term complications. Five studies performed direct or indirect comparisons between VCDs and other treatments (open surgery or stent grafting) suggesting no significant differences in safety or effectiveness.
Conclusion
Although there is limited evidence, VCDs appear to be safe and effective for the management of ITCAIs. Further research is warranted regarding the effectiveness of this approach in comparison to surgery and in order to identify those patients who are more likely to benefit from this minimally invasive approach.