01.12.2017 | Research | Ausgabe 1/2017 Open Access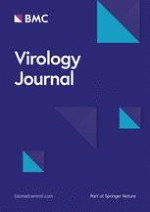 Co-infection of two reoviruses increases both viruses accumulation in rice by up-regulating of viroplasm components and movement proteins bilaterally and RNA silencing suppressor unilaterally
Zeitschrift:
Autoren:

Shu Li, Tong Zhang, Yingzhi Zhu, Guohui Zhou
Wichtige Hinweise
Electronic supplementary material
The online version of this article (doi:
10.​1186/​s12985-017-0819-0
) contains supplementary material, which is available to authorized users.
Abbreviations
RdRp
RNA-dependent RNA polymerase
RT-qPCR
Reverse transcription-quantitative PCR
SRBSDV
Southern rice black-streaked dwarf virus
Background
Methods
Test plants, viruses, and insects
The seeds of a rice cultivar 'Qiuyou-998' used in this research were maintained in our laboratory. The seeds were germinated by soaking in warm water, then sown in a plastic box sized 50 cm long, 25 cm wide and 8 cm high. The seedlings with uniform growth were individually transplanted into a culture tube half-filled with the nutrient solution culture (pH 4.5 ~ 5.0) when they were in the four-leaf stage [
22
]. The seedlings were allowed to grow in an incubator under the conditions of 28 °C and 16 h light/8 h dark.
The isolates of SRBSDV and RRSV were collected from diseased field in Guangzhou, Guangdong Province, China. Both isolates were transmitted to a number of Qiuyou-998 rice plants by WBPH and BPH, and grown in insect-proof greenhouses.
Five fourth-stage nymphs of WBPH or BPH, which breed on SRBSDV or RRSV infected rice plants for two or three generations, were collected and then moved to each rice seedling at four-leaf stage. SRBSDV or RRSV singly infected rice plants were derived from rice seedlings inoculated with viruliferous WBPHs or BPHs, respectively, SRBSDV and RRSV co-infected rice plants were derived from rice seedlings inoculated with both viruliferous insects. At least 30 rice seedlings were used in each inoculation. All the insects were removed manually after a 24-h exposure. Second upper leaf from each inoculated rice plants were collected at 9, 15, and 20 days after the 24-h insect exposure (days post inoculation, dpi), enclosed with aluminium foil paper, and put in a refrigerator of −70 °C after liquid nitrogen freezing. SRBSDV or/and RRSV were detected in all inoculated rice plants at 20 dpi by RT-PCR using a One Step RNA PCR kit (AMV) (TaKaRa, Dalian, China) and specific primers for SRBSDV and RRSV according to Wang et al. [
23
]. Rice plants postitive for SRBSDV or RRSV and both viruses were defined as singly and co-infected rice plants. In total, 12 plants from each infection treatment were used for viral gene expression experiments.
RT- qPCR detection
Trizol RNAiso Plus (Invitrogen, Boston, MA) were used for total RNA extraction from frozen leaves from SRBSDV or RRSV singly or co-infected rice plants, and then treated with DNase I (TaKaRa). Spectrophotometry was used to determine the concentration and purity of the total RNA. Total RNA samples with A260/A280 and A260/A230 of 1.9 to 2.1 and greater than 2.0, respectively, can be used as templates for RT-qPCR.
Primer Express (version 3.0; Applied Biosystems, Foster City, CA) was used to design the RT-qPCR primers (Table
1
) based on 13 and 11 genes of SRBSDV and RRSV, respectively. The U6 small nuclear RNA gene of rice was used as a housekeeper or control genes for RT-qPCR (Table
1
).
Table 1
Reverse-transcription quantitative polymerase chain reaction primers used for quantification of southern rice black-streaked dwarf virus (SRBSDV) and rice ragged stunt virus (RRSV)
Purpose

Gene name

Target gene (GenBank accession no.)

Primer for RT-qPCR(5′-3′)

Size of expected amplicon (bp)

RRSV

RRSV P1

HM125559

AGGATCTCTTCTCAATGCAAGC

70

AACTTCCACCTGGCAACGTC

RRSV P2

HM125560

GGCGTTCGATCTCGTGTTTAA

69

GCGGGAAAATCATTGGCGTG

RRSV P3

AF020336

TCAAAGCTAGTGATGAGCGTCTGT

70

CTGGCATAAAAACGAAGAGTCTGA

RRSV P4A

HM125562

GGCGTCAGTGTGTAGCAGCAT

66

ATTGGGTAGAGTTGTTGTTTTGGAT

RRSV P4B

HM125562

CGCCATCCACAAAGCTATCA

63

AACACTCTCGTAGCCTGCCAAT

RRSV P5

HM125562

CGCCATCCACAAAGCTATCA

59

AACACTCTCGTAGCCTGCCAAT

RRSV S5

HM125543

GGCGGCATCGGGTTGT

59

CACCTCTATCAAACGCAGTAACCA

RRSV S6

HM125554

GCTTTCGCGGTGCTCAA

59

CTCCCAATTACGCACCGAAT

RRSV P7

HM125555

TGACGATTACGCCGAGACAAG

62

CGGACGACTGGCCAATG

RRSV P8

HM125546

GGCTGAGCGTGCGGTTA

66

TCAGCCTTGATATCGTTGTAGCA

RRSV P9

L79969

GGTGTGGCTCTACAACAAATGG

67

ACGCCTCTTTCTCTGCTCCTCTA

RRSV P10

HM125568

CCGAGCCGCCATCATAGTA

63

ACCTCAAAAACTCCAGACAGCATA

SRBSDV

SRBSDV P1

JQ692572

TGTGATTTGAACTCAGAGACAGCTTTA

80

TGACGTTGATAAGTTGATTGTTGAGA

SRBSDV P2

HM585278

GCGAACGGCTTTCTGCTTT

71

GAATGTGCGAGTGATTTCATGAA

SRBSDVP3

HM585277

TCCCGGTGTTCGAGAAGTTC

64

CAGCATTTTCCATCCAACCAT

SRBSDV P4

HM585276

TCAACGCTCGACAACCAAAA

72

TTATCGTGATATCTGCTACGAATACCA

SRBSDV P5-1

HM585275

ATCAGATGATAACCTCAATCGTACCA

94

TGAGCCAGTGAAGGTAATCATCATTA

SRBSDV P5-2

CGCTTAACAATTGTCGTGATATGAA

75

GCGTGCTTCCGAAAAGTAAAGTT

SRBSDV P6

HM585274

AAGCAACAAACATCAACGTCAAA

69

AACTACGTCGGCCCATGAAC

SRBSDV P7-1

HM58527

CCTAATGAAAACCCATCTACCTGTAAC

70

CACGAATAAACATCAGCGACAAA

SRBSDV P7-2

CAAATATTTAGTAGAAGCAGAACGCAAGT

61

ACATCTTTTTCGTCTTTCTCATACTCTTAA

SRBSDV P8

HM585272

GATTGTCTCCTTTGGATGATGTTG

72

CCTGTCCTTCTTGAAATACACGTAAC

SRBSDV P9-1

HM585271

TGAAAGCGAATCCTCAACTAAAGA

68

TTGAATCAGTGGAGGTGGGTTT

SRBSDV P9-2

CGAGATGAGCGATTCTGGTTT

70

TTCGTGAATGATGTTGTTAACCTTTT

SRBSDV P10

EU784840

TCATCATTAGCGCGACTAGTTCA

64

CGTCACTCGGCGTCGATAA

Reference

U6

S83742

CGATAAAATTGGAACGATACAGA

72

ATTTGGACCATTTCTCGATTTGT
A PrimeScript RT reagent kit (TaKaRa) was used to reverse-transcribed the total RNA into cDNA. cDNA were synthesized using 2 μL of 5× RT buffer, 0.5 μL of RT Enzyme Mix I, 0.5 μL of oligo dT, 6 μL of RNase-free double-distilled (ddH2O), and 2 μg total RNA, the reaction was conducted at 42 °C for 15 min followed by 95 °C for 2 min. The qPCR was performed on a Cycler Dice Real Time System TP800 (TaKaRa) using 2 ng of cDNA, 0.5 μL each of the forward and reverse primers (10 μM), 12.5 μL of SYBR Premix Ex Taq II, and 9.5 of RNase-free ddH2O. The reactions were run for 95 °C for 30 s, followed by 40 cycles of 95 °C for 5 s and 60 °C for 30 s. No-template reaction that replacing cDNA with RNase-free ddH2O was used as negative control and the U6 small nuclear RNA gene of rice was used as a housekeeper or control genes for all detections. A 10-fold gradient dilution of cDNA was used to construct a dissolution curve and a relative standard curve for determining the specificity and amplification efficiency of each primer. All primers had a single peak for dissolution curve and exhibited 90% to 110% amplification efficiency in all reactions. Analysis of relative genes expression data using 2 − ΔΔCt method. At least six rice plants were used for each treatment, and each reaction was run in triplicate.
Statistical analysis
The statistical software package SPSS 19.0 (IBM, Armonk, NY) was used to analyze the experimental data. A
t
-test with Bonferroni correction was used to compare gene relative expression levels in different treatment at the same stage.
Results
Discussion
Conclusions
Compared with the samples singly infected with SRBSDV or RRSV, the viral movement protein and viroplasm matrix-related genes as well as the structural (capsid) protein genes of the two viruses were remarkably up-regulated bilaterally at different time points in the co-infected rice plants, while the RNA silencing suppressor (P6) of only RRSV, but not of both the viruses, was up-regulated. We therefore proposed that the SRBSDV-RRSV synergism promoted replication and movement of both the viruses and inhibited the host immunity by enhancing the gene suppressing effect exerted by one of them (RRSV), leading to an increase of both viruses' titers in the co-infected rice plants.
Acknowledgements
We thank Jingxian Xue for her excellent work in growth chamber and lab maintenance.
Funding
This research was supported by the National Natural Science Foundation of China (31272012) and the Special Fund for Agroscientific Research in the Public Interest of China (201303021).
Availability of data and materials
Not applicable.
Ethics approval and consent to participate
Not applicable.
Consent for publication
Not applicable.
Competing interests
The authors declare that they have no competing interests.
Publisher's Note
Springer Nature remains neutral with regard to jurisdictional claims in published maps and institutional affiliations.
Open Access
This article is distributed under the terms of the Creative Commons Attribution 4.0 International License (
http://​creativecommons.​org/​licenses/​by/​4.​0/​
), which permits unrestricted use, distribution, and reproduction in any medium, provided you give appropriate credit to the original author(s) and the source, provide a link to the Creative Commons license, and indicate if changes were made. The Creative Commons Public Domain Dedication waiver (
http://​creativecommons.​org/​publicdomain/​zero/​1.​0/​
) applies to the data made available in this article, unless otherwise stated.