12.02.2020 | Short Communication | Ausgabe 2/2020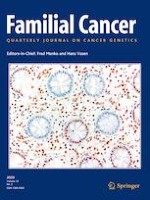 Co-occurrence of multiple endocrine neoplasia type 4 and spinal neurofibromatosis: a case report
Zeitschrift:
Autoren:

Pamela Brock, Jean Bustamante Alvarez, Amir Mortazavi, Sameek Roychowdhury, John Phay, Raheela A. Khawaja, Manisha H. Shah, Bhavana Konda
Wichtige Hinweise
Publisher's Note
Springer Nature remains neutral with regard to jurisdictional claims in published maps and institutional affiliations.
Abstract
Multiple Endocrine Neoplasia (MEN) type 4 is a rare genetic condition that results from variants of the
CDKN1B
gene and predisposes individuals to develop endocrine tumors. Spinal neurofibromatosis (SNF) is an uncommon subtype of neurofibromatosis type 1 (NF1) characterized by bilateral neurofibromas of all spinal roots. Here we report a case of the co-occurrence of these syndromes, which has not yet been described in the literature. A male in his 60s presented with Gleason 5 + 4 localized prostate adenocarcinoma treated with radical prostatectomy. Two years later, he developed liver and bone metastasis consistent with trans-differentiation into small cell carcinoma. He developed hypercalcemia due to primary hyperparathyroidism from a parathyroid adenoma treated surgically. His family history was significant for a first-degree relative with a clinical diagnosis of NF1 and several second-degree relatives with multiple café-au-lait macules. Spine MRI showed multiple bilateral neurofibromas. Germline genetic testing showed a pathogenic variant in the
CDKN1B
gene, a variant in the
NF1
gene, and a normal
MEN1
gene. In this rare case of MEN4 and SNF, the patient was asymptomatic for much of his life. In addition to parathyroid adenoma and spinal neurofibromas, he had prostate adenocarcinoma with trans-differentiation into metastatic small cell cancer. Whether this diagnosis was coincidental or related to an emerging phenotype remains to be elucidated.