18.11.2019 | Original Article - Brain trauma | Ausgabe 2/2020 Open Access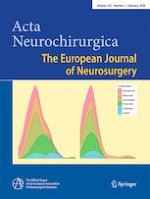 Coagulopathy after hemorrhagic traumatic brain injury, an observational study of the incidence and prognosis
Zeitschrift:
Autoren:

Jort A. N. van Gent, Thomas A. van Essen, Mettine H. A. Bos, Suzanne C. Cannegieter, Jeroen T. J. M. van Dijck, Wilco C. Peul
Wichtige Hinweise
Jort A. N. van Gent and Thomas A. van Essen contributed equally to this work.
This article is part of the Topical Collection on
Brain trauma
Comments
Traumatic brain injury aggravated by concomitant coagulopathy is common and associated with increased rates of mortality, morbidity and disability. When coagulopathy is present, rapid reversal should be a high priority to prevent hemorrhage expansion leading to further secondary both intracranial and extracranial trauma consequences. Even though the topic has been discussed in several previous publications, the authors contributed interesting new data that invite further investigations. For instance, antifibrinolytics that have been studied in major trauma to prevent excessive blood loss such as tranexamic acid given early might be promising therapeutic candidates. The authors are congratulated for another valuable contribution to our neurosurgical and neurotraumatological knowledge, despite the study shortcomings, adequately and critically discussed within the manuscript.
Markus F. Oertel
Zurich, Switzerland
Publisher's note
Springer Nature remains neutral with regard to jurisdictional claims in published maps and institutional affiliations.
Abstract
Background
Traumatic brain injury is associated with high rates of mortality and morbidity. Trauma patients with a coagulopathy have a 10-fold increased mortality risk compared to patients without a coagulopathy. The aim of this study was to identify the incidence of coagulopathy and relate early coagulopathy to clinical outcome in patients with traumatic intracranial hemorrhages.
Methods
Between September 2015 and December 2016, 108 consecutive cranial trauma patients with traumatic intracranial hemorrhages were included in this study. To assess the relationship between patients with a coagulopathy and outcome, a chi-squared test was performed.
Results
A total of 29 out of the 108 patients (27%) with a traumatic intracranial hemorrhage developed a coagulopathy within 72 h after admission. Overall, a total of 22 patients (20%) died after admission of which ten were coagulopathic at emergency department presentation. Early coagulopathy in patients with traumatic brain injury is associated with progression of hemorrhagic injury (odds ratio 2.4 (95% confidence interval 0.8–8.0)), surgical intervention (odds ratio 2.8 (95% confidence interval 0.87–9.35)), and increased in-hospital mortality (odds ratio 23.06 (95% confidence interval 5.5–95.9)).
Conclusion
Patients who sustained a traumatic intracranial hemorrhage remained at risk for developing a coagulopathy until 72 h after trauma. Patients who developed a coagulopathy had a worse clinical outcome than patients who did not develop a coagulopathy.