01.12.2017 | Case report | Ausgabe 1/2017 Open Access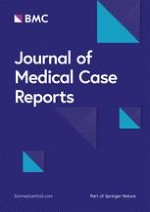 Coexistence of congenital left ventricular aneurysm and prominent left ventricular trabeculation in a patient with
LDB3

mutation: a case report
Zeitschrift:
Autoren:

Shengshuai Shan, Xiaoxiao He, Lin He, Min Wang, Chengyun Liu
Abbreviations
ARVC
Arrhythmogenic right ventricular cardiomyopathy
AST
Aspartate aminotransferase
CK-MB
MB isoenzyme of creatine kinase
CMR
Cardiac magnetic resonance
CTA
Computed tomography angiography
dbSNP
Single Nucleotide Polymorphism database
ESR
Erythrocyte sedimentation rate
HCM
Hypertrophic cardiomyopathy
HGMD
Human Gene Mutation Database
hsTnI
High-sensitive troponin I
LVA
Left ventricular aneurysm
LVNC
Left ventricular non-compaction
MCTD
Mixed connective tissue disease
RCM
Restrictive cardiomyopathy
SLE
Systemic lupus erythematosus
sZM
Striated muscle ZASP-like motif
ZASP
Z-band alternatively spliced PDZ motif
Background
Congenital left ventricular aneurysm (LVA) is a rare cardiac malformation first described in 1816, and characterized as an akinetic or dyskinetic structure with a wide connection to the left ventricle [
1
]. Significant morbidity and mortality is associated with congenital LVA due to systemic embolization, valvular regurgitation, ventricular wall rupture, ventricular tachycardia, or sudden cardiac death [
2
]. The pathogenesis for congenital LVA during the complex embryologic development is not well understood, and several theories exist [
3
]. To date, no known genetic abnormalities have been found in this disease. Congenital LVA is associated with numerous other congenital anomalies [
3
], including those of the heart itself, or those of vascular or extracardiac structures; the most frequent associated cardiac abnormalities were ventricular septal defect [
4
], coronary anomalies [
5
], and atrial septal defect [
6
]. Abnormal cardiac trabeculation is observed in congenital heart diseases [
7
] and genetic cardiomyopathies [
8
,
9
], and may serve as a measurable phenotypic marker that will allow insights into how genetic cardiomyopathies and congenital heart diseases arise and develop [
10
]. Gene mutations have been confirmed as the causative factors for genetic cardiomyopathies [
11
]. And there is increasing identification of genetic abnormalities linking the developmental defects in congenital heart diseases [
12
]. Therefore, whether gene mutation is associated with this rare combination is of interest. We report a rare case of coexisting congenital LVA and prominent left ventricular (LV) trabeculation with LIM domain binding 3 (
LDB3
) gene mutation (c.C793>T; p.Arg265Cys), which was not reported in the public databases of Human Gene Mutation Database (HGMD;
http://​www.​hgmd.​cf.​ac.​uk/​ac/​index.​php
) or Single Nucleotide Polymorphism database (dbSNP;
http://​www.​ncbi.​nlm.​nih.​gov/​projects/​SNP/​
). The genetic discovery from this case may open the door to a better understanding of abnormal cardiac development and affect clinical care of patients with congenital LVA.
Case presentation
A 30-year-old Asian man was admitted to our hospital because of the finding of unusual Q waves of electrocardiogram (ECG) in his first health examination and an abnormal pattern of his left ventricle in a following transthoracic echocardiography check. He has no risk factors of cardiovascular diseases, and no history of coronary artery disease or myocarditis. He presented for years with unspecific symptoms like palpitation and vague, intermittent chest pain, which were unrelated to physical exertion, and he did not receive any medical intervention for these symptoms in the past.
On general physical examination he had a body temperature of 36.7 °C and a heart rate of 84 beats per minute in a normal condition and 121 beats per minute in a cardiopalmus condition. His respiratory rate was 16 breaths per minute. He had a blood pressure of 110/72 mm Hg and an oxygen saturation of 98% on room air. His cardiac examination was normal; there were no murmurs or extracardiac sounds on auscultation. His complete physical examination including a neurological examination was unremarkable. Laboratory tests revealed: normal markers of myocardial injury, for example MB isoenzyme of creatine kinase (CK-MB), high-sensitive troponin I (hsTnI), lactate dehydrogenase (LDH), and aspartate aminotransferase (AST); a positive enterovirus (EVs) -ribonucleic acid (RNA); and negative coxsackievirus B (CoxB)3 -immunoglobulin M (IgM), CoxB5-IgM, and cytomegalovirus ©-IgM in the virologic examination. The antinuclear antibody (ANA) spectrum showed a positive anti-double-stranded deoxyribonucleic acid (dsDNA) antibody, and the titer of anti-ANA was within a normal range. Other ANAs were negative. The inflammatory indicators of C-reactive protein (CRP), antistreptolysin O (ASO), and erythrocyte sedimentation rate (ESR) were within the normal ranges. Routine laboratory tests for liver, renal, electrolytes, and blood glucose were normal. His low-density lipoprotein (LDL) cholesterol was mildly elevated (3.4 mmol/L) in the serum lipid profile and the other lipids were within normal range (Table
1
). His blood, urine, and stool routine tests were all normal (data not shown). The ECG was reexamined and showed paroxysmal sinus tachycardia and Q waves in I-III, avF, and V4 to V6 leads (Fig.
1a
). A subsequent coronary-computed tomography angiography (CTA) check showed normal coronary artery and no coronary stenosis (Fig.
1b
). Both left ventricle contrast echocardiography and cardiac magnetic resonance (CMR) demonstrated that apical congenital LVA coexisted with prominent LV trabeculation (Fig.
2a–d
). We re-evaluated his medical history carefully and comprehensively and found no family history of heart diseases or genetic diseases.
Table 1
Laboratory data of the patient
Parameters

Results

Reference values

Myocardial enzyme spectrum

 CK-MB (ng/ml)

0.5

<6.6

 hsTnI (pg/ml)

2.1

<262

 LDH (U/L)

135

109–245

 AST (U/L)

16

8–40

Virologic test

 CoxB3-IgM

Negative

Negative

 CoxB5-IgM

Negative

Negative

 EVs-RNA

Positive

Negative

 C-IgM

Negative

Negative

ANA spectrum

 Anti-ANA

<1:100

<1:100

 SM

Negative

Negative

 Anti-dsDNA

Positive

Negative

 ACA (RU/ml)

5.0

<12

 CENPB

Negative

Negative

 nRNP

Negative

Negative

 SSA

Negative

Negative

 SSB

Negative

Negative

 SCL-70

Negative

Negative

 JO-1

Negative

Negative

 RA-54

Negative

Negative

 DM-53

Negative

Negative

 D'E

Negative

Negative

Inflammatory indicators

 CRP (mg/L)

<3.28

<8

 ASO (IU/ml)

<55.3

<200

 ESR (mm/h)

2

<15

 T-BIL (μmol/L)

12

5.1–19

 D-BIL (μmol/L)

6.6

1.7–6.8

 ALT (U/L)

15

5–40

 ALP (U/L)

63

40–150

 GGT (U/L)

21

11–50

 A/G

1.9

1.5–2.5

 LDL cholesterol (mmol/L)

3.4

2.7–3.1

 Total cholesterol (mmol/L)

5.14

<5.2

 HDL cholesterol (mmol/L)

1.38

1.16–1.42

 Triglycerides (mmol/L)

0.88

<1.7

 Fasting glucose (mmol/L)

4.61

3.9–6.1

 HbA1C (%)

4.7

4.5–6.2

 BUN (mmol/L)

3.9

2.9–8.2

 Creatinine (μmol/L)

73.5

44–133

 URIC (μmol/L)

408

208–428

 CK (U/L)

116

38–174

 LDH (U/L)

135

109–245

 Na (mmol/L)

141

136–145

 K (mmol/L)

4.0

3.5–5.2

 Cl (mmol/L)

106

96–106

 Ca (mmol/L)

2.32

2.03–2.54

 CO 2-CP (mmol/L)

24

22–28

 P (mmol/L)

1.2

0.96–1.62

 Mg (mmol/L)

0.75

0.70–1.10
×
×
For further evaluating the genetic background of this rare combination, his DNA was isolated from a peripheral blood sample and screened for mutations by high-throughput sequencing, which aimed at cardiomyopathy-related genes, after informed consent was obtained. These mutations have been reported in five major cardiomyopathies, including hypertrophic cardiomyopathy (HCM), dilated cardiomyopathy (DCM), arrhythmogenic right ventricular cardiomyopathy (ARVC), restrictive cardiomyopathy (RCM), and LV non-compaction (LVNC) [
11
]. In this case, a heterozygous missense variant in
LDB3
gene (c.C793>T; p.Arg265Cys) was identified. The variant was considered to be probably pathogenic because of the following criteria: (1) it was not reported in the public databases of HGMD (
http://​www.​hgmd.​cf.​ac.​uk/​ac/​index.​php
) or dbSNP (
http://​www.​ncbi.​nlm.​nih.​gov/​projects/​SNP/​
); and (2) it predicted pathogenic mutation by multiple in silico algorithms (MutationTaster, PolyPhen-2, Align-GVGD, SIFT, and PANTHER). No other mutations were identified in the gene test. The final diagnosis of our patient was coexistence of congenital LVA and prominent LV trabeculation with
LDB3
mutation (c.C793>T; p.Arg265Cys). There was no occurrence of complications or new cardiac symptoms during a 3-month follow-up evaluation and he had a normal cardiac function after he was discharged. An annual follow-up was scheduled for further assessment.
Discussion
Conclusions
This case presents the phenotypic expression of two heart conditions, congenital LVA and prominent LV trabeculation, coexisting with
LDB3
gene mutation, suggesting the same genetic background may be shared within congenital LVA and cardiomyopathies. However, a single case of such a rare combination with a single gene mutation does not strongly support the link. More evidence is still needed to elucidate the association of genetic variations and congenital LVA. Comprehensive diagnostic assessment may provide a better understanding of the genotype–phenotype correlation between these two heart conditions. Our finding may help cardiologists and medical scientists to gain new insights into the basic mechanisms leading to congenital LVA and abnormal cardiac trabeculation.
Acknowledgements
We thank the patient for participating in this work. The authors are grateful to Dr Lei Jiang (Department of Geriatrics, Union Hospital, Tongji Medical College, Huazhong University of Science and Technology) for critical review of this work.
Funding
This study was supported by National Natural Science Foundation of China (Grants:81370468 and 81671386).
Availability of data and materials
The datasets used and analyzed during the current study are available from the corresponding author on reasonable request.
Ethics approval and consent to participate
This study was approved by the ethics committee of Tongji Medical College, Huazhong University of Science and Technology and conducted in accordance with the Declaration of Helsinki.
Consent for publication
Written informed consent was obtained from the patient for publication of this case report and any accompanying images. A copy of the written consent is available for review by the Editor-in-Chief of this journal.
Competing interests
The authors declare that they have no competing interests.
Publisher's Note
Springer Nature remains neutral with regard to jurisdictional claims in published maps and institutional affiliations.
Open Access
This article is distributed under the terms of the Creative Commons Attribution 4.0 International License (
http://​creativecommons.​org/​licenses/​by/​4.​0/​
), which permits unrestricted use, distribution, and reproduction in any medium, provided you give appropriate credit to the original author(s) and the source, provide a link to the Creative Commons license, and indicate if changes were made. The Creative Commons Public Domain Dedication waiver (
http://​creativecommons.​org/​publicdomain/​zero/​1.​0/​
) applies to the data made available in this article, unless otherwise stated.