01.12.2015 | Case report | Ausgabe 1/2015 Open Access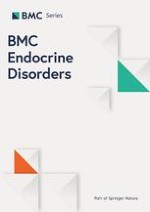 Coexistence of Graves' disease and unilateral functioning Struma ovarii: a case report
Zeitschrift:
Autoren:

Tullaya Sitasuwan, Suchanan Hanamornroongruang, Thavatchai Peerapatdit, Nuntakorn Thongtang
Wichtige Hinweise
Completing interests
The authors declare that they have no competing interests.
Authors' contributions
TS treated the patient, gathered data and drafted the manuscript. SH prepared, analysed, and interpreted the histopathological samples, and critically reviewed the manuscript. TP critically reviewed the manuscript. NT treated the patient, conceptualized the case report, gathered data, and critically reviewed the manuscript. All authors approved the final version of the manuscript.
Abstract
Background
Coexisting of Graves' disease and functioning struma ovarii is a rare condition. Although the histology of struma ovarii predominantly composed of thyrocytes, the majority of the patients did not have thyrotoxicosis. The mechanism underlying the functioning status of the tumor is still unclear but the presence of thyroid stimulating hormone receptor (TSHR) is thought to play a role. Here we describe the patient presentation and report the TSHR expression of the tumor.
Case presentation
A 56-year old Asian woman presented with long standing thyrotoxicosis for 23 years. She was diagnosed with Graves' disease and thyroid nodules. She had bilateral exophthalmos and had high titer of plasma TSHR antibody. Total thyroidectomy was performed and the histologic findings confirmed the clinical diagnosis. The patient had persistent thyrotoxicosis postoperatively. Thyroid uptake demonstrated the adequacy of the thyroid surgery and the whole body scan confirmed the presence of functioning thyroid tissue at pelvic area. The surgery was scheduled and the patient had hypothyroidism after the surgery. The pathological diagnosis was struma ovarii at right ovary. We performed TSHR staining in both the patient's struma ovarii and in 3 cases of non-functioning struma ovarii. The staining results were all positive and the intensity of the TSHR staining of functioning struma ovarii was the same as that in other cases of non-functioning tumors, suggesting that the determinant of functioning struma ovarii might be the presence of TSHR stimuli rather than the intensity of the TSHR in the ovarian tissue.
Conclusion
In patients with Graves' disease with persistent or recurrent thyrotoxicosis after adequate ablative treatment, the possibility of ectopic thyroid hormone production should be considered. TSHR expression is found in patients with functioning and non-functioning struma ovarii and cannot solely be used to determine the functioning status of the tumor.