01.12.2014 | Case report | Ausgabe 1/2014 Open Access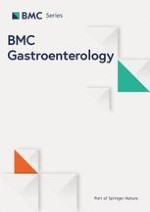 Coexistence of HBsAg and HBsAb in a difficult-to-treat chronic hepatitis B: loss of HBsAg with entecavir plus tenofovir combination
Zeitschrift:
Autoren:

Giovanni Galati, Antonio De Vincentis, Umberto Vespasiani-Gentilucci, Paolo Gallo, Donatella Vincenti, Maria Carmela Solmone, Chiara Dell'Unto, Antonio Picardi
Wichtige Hinweise
Electronic supplementary material
The online version of this article (doi:
10.​1186/​1471-230X-14-94
) contains supplementary material, which is available to authorized users.
Competing interests
The authors declare that they have no competing interest.
Authors' contributions
GG conceived the clinical case and wrote the manuscript; AD helped to draft the manuscript and designed Figure
1
and Additional file
1
: Table S1; UV helped to draft the manuscript and revised the written English; PG, DV, MCS, CD and AP helped to draft the manuscript and revised it critically for important intellectual content; DV and MCS performed the ultra-deep pyro-sequencing of the polymerase region of HBV; all authors read and approved the final manuscript.
Abstract
Background
Some reports have documented the coexistence of Hepatitis B surfage Antigen (HBsAg) and anti-HBsAg antibodies (HBsAb) in patients with chronic hepatitis B (CHB), often in the absence of amino acid substitutions in the HBsAg sequences of the Hepatitis B Virus (HBV) genome able to explain an immunological escape variant.
HBV genome has a very compact coding organization, with four partially overlapping open reading frames (ORFs). Because the reverse transcriptase region (rt) of HBV polymerase overlaps the HBsAg ORF, it is possible that some mutations in the HBsAg region correspond to mutations in the rt ORF, conferring resistance to current antiviral therapies.
This unique case explores the response to antiviral therapies of a CHB with concurrent HBsAg and HBsAb positivity, and analyse the clinical implications of possible mutations in rt and HBsAg ORFs.
Case presentation
Here we describe the case of a 59 year-old Italian man suffering from Hepatitis B envelope Antigen (HBeAg) positive CHB with concurrent HBsAb positivity. By ultra-deep pyro-sequencing (UDPS) technique, mutations conferring immunological escape or resistance to antiviral therapies were found neither in HBsAg nor in HBV rt ORFs, respectively.
The patient was unsuccessfully treated with interferon, adefovir monotherapy and adefovir plus entecavir combination. Surprisingly, during entecavir plus tenofovir combination, anti-HBe seroconversion and HBsAg loss were observed, while the titer of HBsAb persisted.
Conclusions
Concurrent HBsAg/HBsAb positivity in active CHB is a clinical and virological dilemma. In this setting, there are not consistent data about the response to conventional therapies and the immunological balance between host and virus remains so far unexplained. This is, to our knowledge, the first case described of a CHB with HBsAg/HBsAb positivity, wild type for clinically relevant mutations in HBsAg and rt ORFs, successfully treated with a combination of nucleot(s)ide analogues (NAs).