01.12.2018 | Research article | Ausgabe 1/2018 Open Access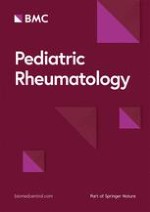 Coexistent sickle-cell anemia and autoimmune disease in eight children: pitfalls and challenges
Zeitschrift:
Autoren:

Valerie Li-Thiao-Te, Florence Uettwiller, Pierre Quartier, Florence Lacaille, Brigitte Bader-Meunier, Valentine Brousse, Mariane de Montalembert
Abstract
Background
Patients with sickle cell disease (SCD) present a defective activation of the alternate complement pathway that increases the risk of infection and is thought to predispose to autoimmune disease (AID). However, coexisting AID and SCD is rarely reported, suggesting possible underdiagnosis due to an overlapping of the symptoms.
Study design
Among 603 patients with SCD followed between 1999 and June 2016, we retrospectively searched for patients with coexisting SCD and AID.
Results
We identified 8 patients aged from 7 to 17 years diagnosed with AID; juvenile idiopathic arthritis (
n
 = 3), systemic lupus erythematosus (
n
 = 2), Sjögren's syndrome (
n
 = 1) and autoimmune hepatitis (n = 2). The diagnosis of AID was often delayed due to similarities of the symptoms with those of SCD. Patients treated with steroids experienced multiple vaso-occlusive crises and received prophylactic chronic blood transfusions when it was possible. Tolerance to other immunosuppressive and biological treatments, such as anti-TNF agents, was good. A remission of AID was achieved in 4 patients, without worsening the course of the SCD. One patient underwent a geno-identical hematopoietic stem cell transplantation that cured both diseases. Another one underwent a successful liver transplantation.
Conclusion
Coexistence of AID and SCD generates diagnostic and therapeutic challenges. Early diagnosis of AID is important to define the best treatment, which may include targeted biological therapy.