01.12.2017 | Study protocol | Ausgabe 1/2017 Open Access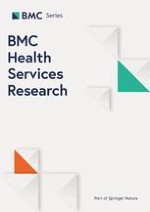 CogChamps – a model of implementing evidence-based care in hospitals: study protocol
Zeitschrift:
Autoren:

Catherine Travers, Frederick Graham, Amanda Henderson, Elizabeth Beattie
Abstract
Background
Delirium and dementia (cognitive impairment; CI), are common in older hospital patients, and both are associated with serious adverse outcomes. Despite delirium often being preventable, it is frequently not recognized in hospital settings, which may be because hospital nurses have not received adequate education or training in recognizing or caring for those with CI. However, the most effective way of increasing nurses' awareness about delirium and dementia, and initiating regular patient screening and monitoring to guide best practices for these patients in hospital settings is not known. Hence this current project, conducted in 2015–2017, aims to redress this situation by implementing a multi-component non-pharmacological evidence-based intervention for patients with CI, through educating and mentoring hospital nurses to change their practice.
Methods
The development of the practice change component is informed by recent findings from implementation science that focuses on facilitation as the active ingredient in knowledge uptake and utilization. This component focuses on educating and empowering experienced nurses to become Cognition Champions (CogChamps) across six wards in a large Australian tertiary referral hospital. The CogChamps will, in turn, educate other nursing team members to more effectively care for patients with CI. The hospital leadership team are supportive of the project and are directly involved in selecting the CogChamps. CogChamps will be provided with comprehensive education in evidence-based delirium assessment, prevention and management, and practice change management skills. They will receive continuing support from research and education staff about raising awareness, upskilling other staff in delirium assessment and in the adoption of best practices for preventing and managing delirium. Both qualitative and quantitative data are being collected at multiple time-points to evaluate process, impact and outcome, and to provide clarity regarding the most effective aspects of the intervention.
Discussion
This paper describes the study protocol for the implementation of multi-component evidence-based non-pharmacological practices designed to improve the care of older hospital patients with CI. Findings will inform subsequent initiatives directed towards enhancing the capacity of the nursing workforce to implement best practices for providing high quality care for this growing patient population throughout their acute care hospital stay.