17.10.2016 | Original Paper | Ausgabe 6/2017 Open Access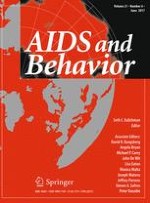 Cognitive Decline in Relation to Psychological Wellbeing and HIV Disease- and Treatment Characteristics in HIV-Infected Patients on cART: A One-Year Follow-Up Study
Zeitschrift:
Autoren:

Marloes A. M. Janssen, Peter P. Koopmans, Roy P. C. Kessels
Wichtige Hinweise
Peter P. Koopmans: Deceased June 27, 2016
Abstract
The objectives of the current study were to examine cognitive decline in relation to psychological wellbeing, HIV disease and treatment characteristics and baseline variables over a one-year period of time in a group of HIV-infected patients on long term cART with undetectable viral load in comparison to a HIV-negative control group. Eighty-two of 95 patients and 43 of 55 controls who completed a baseline assessment for the Art-NeCo study underwent a follow-up neuropsychological assessment. A repeated-measure general linear model analysis was performed to compare the performance at follow-up in comparison to baseline between the patients and controls. Reliable change indices were computed as a measure of significant change in cognitive function. Compared to controls, patients overall performed worse on the domain speed of information processing. In the patient group a worse performance at follow-up was present for the verbal fluency domain compared to the controls, in the absence of a baseline group difference. For the executive function domain, no group differences were found at follow-up, but the patients performed worse than the controls at baseline. We found that cognitive decline was related to more frequent use of recreational drugs and a somewhat heightened level of irritability and more somatic complaints at baseline. However, the decliners did not differ from the non-decliners on any of the HIV-related variables.