02.01.2021 | Original Article | Ausgabe 6/2021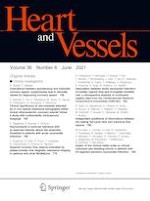 Coincidence between spontaneous and inducible coronary spasm: acetylcholine test is clinically valued for diagnosing coronary spasm
Zeitschrift:
Autoren:

Shozo Sueda, Tomoki Sakaue
Wichtige Hinweise
Publisher's Note
Springer Nature remains neutral with regard to jurisdictional claims in published maps and institutional affiliations.
Abstract
There is no report regarding the correlation between spontaneous documented coronary spasm and acetylcholine (ACh)-inducible spasm. We retrospectively analyzed the coincidence between angiographical spontaneous coronary spasm and ACh-inducible spasm in the same patients. We recruited 28 patients with 30 angiographical spontaneous coronary spasm in 6009 patients with diagnostic and follow-up coronary arteriography from Jan 1991 and Mar 2019 in the cardiac catheterization laboratory. We could perform intracoronary ACh testing in 19 patients with 20 vessels. ACh was injected in incremental dose of 20/50/100 μg into the left coronary artery and 20/50/80 μg into the right coronary artery. Positive spasm was defined as > 90% stenosis and ischemic ECG changes. Angiographical documented spontaneous coronary spasm was observed in 0.47% (28/6009) of patients with diagnostic and follow-up coronary angiography. Intracoronary administration of ACh reproduced 15 spontaneous coronary spasm and no provoked spasm was observed in the remaining 5 vessels due to the administration of nitroglycerine or under medications. Spasm-provoked sites by ACh tests and ACh-inducible spasm configurations were almost similar to spontaneous spasm. Coincidence of provoked spasm site (93.3% vs. 6.7%,
p
 < 0.001) and spasm configuration (93.3% vs. 6.7%,
p
 < 0.001) was markedly higher than discordance. Intracoronary ACh testing can reproduce spontaneous coronary artery spasm in 75% of vessels with almost similar sites and same morphological characteristics irrespective of the administration of nitroglycerine or vasodilators. ACh test is a reliable method to document coronary artery spasm in the clinic.