01.12.2017 | Research | Ausgabe 1/2017 Open Access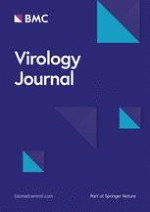 Coinfection with
Haemophilus parasuis serovar

4 increases the virulence of

porcine circovirus

type 2 in piglets
Zeitschrift:
Autoren:

Shuqing Liu, Wentao Li, Yang Wang, Changqin Gu, Xiaoli Liu, Catherine Charreyre, Shenxian Fan, Qigai He
Abbreviations
APP
Actinobacillus pleuropneumoniae
ELISA
enzyme-linked immunosorbent assays
HPS4
Haemophilus parasuis serovar 4
NFCD
naturally farrowed, colostrum-deprived
PAMs
porcine alveolar macrophages
PCV2
Porcine circovirus type 2
PEDV
porcine epidemic diarrhoea virus
PMWS
postweaning multisystemic wasting syndrome
PRRSV
porcine reproductive and respiratory syndrome virus
TTV
porcine torque tenue virus
Background
Porcine circovirus type 2 (PCV2) has been identified as the causal agent of postweaning multisystemic wasting syndrome (PMWS), an economically important multifactorial disease of swine industry worldwide [
1
,
2
]. PMWS is characterized by weight loss, jaundice, generalized lymphadenopathia, interstitial pneumonia and nephritis [
3
]. Based on the broad clinical and serological investigations, Multiple factors have contributed the PCV2 infections as PMWS, such as porcine reproductive and respiratory syndrome virus(PRRSV), porcine parvovirus (PPV), Haemophilus parasuis(HPS), and Actinobacillus pleuropneumoniae (APP), a variety of viral and bacterial pathogens in the majority of cases (85.0%) [
4
,
5
].
HPS is an important swine pathogen that causes Glässer's disease, which is characterized by fibrinous polyserositis, meningitis and arthritis [
6
]. Clinically, HPS co-infection with other pathogens, such as PRRSV, PCV2,
Streptococcus suis
(SS) and
Pasteurella multocida
(Pm), lead to increasing economic losses in the swine industry worldwide [
5
–
8
]. Previous observations indicated that PCV2 and HPS exacerbate secondary or opportunistic infections, co-infection with PCV2 and HPS was the most prevalent combination associated with PMWS in Korea and China, HPS serovar 4 (24.2%) and HPS serovar 5 (19.2%) were the most prevalent serovars in China [
5
,
8
,
9
]. Therefore, We established a porcine model to elucidate the clinical changes of PCV2 and HPS4 co-infection, using clinical isolates of PCV2 genotype 2b WH strain and HPS4 MD0322 strain isolated from china, based on the protocol for coinfection model establishment proposed by Harms et al. [
10
]. We firstly measured the clinical and peripheral blood changes of PCV2 and HPS4 co-infection, in order to analyze the synergistic influence on the virulence of PCV2 in piglets.
Methods
Experimental design and inoculations
Three-week-old naturally farrowed, colostrum-deprived (NFCD) piglets were used, obtained from a herd in Hubei province without PCV2, PPV, PRRSV, SS2 or HPS pathogen. All piglets were randomly divided into four groups (six piglets per group) and raised separately in four isolation rooms with individual ventilation. Animals received food and water ad libitum. After one week, all piglets were inoculated and slaughtered at 28 day post infection (DPI). The Clinical separated strain PCV2 genotype 2b (WH) was used as the source of viral inoculums (GenBank ID:FJ870967). The titer of the virus was calculated as 10 7.3 TCID 50/ml. HPS4 strain MD0322 was used as the source of bacterial inoculums. It was isolated from the Zhijiang city of Hubei province emergency on August 2001 as the cases of fibrinous, polyserositis and arthritis in piggery. The bacterial inoculum contained approximately 4.5 × 10 8 colony- forming units (CFU)/ml. The piglets in the PCV2-infected group and PCV2/HPS4 coinfected group were intramuscularly (IM; 2.5 ml) and intranasally (IN; 2.5 ml) inoculated with the WH strain of PCV2. The pigs in the HPS4-infected group and PCV2/HPS4 coinfected group were IM (2.5 ml) and IN (2.5 ml) inoculated with the HPS4 strain MD0322. The piglets in the control group were inoculated with DMEM in the same way. All animal experiments were complied with the requirement of animal welfare organizations and approved by the Biological Studies Animal Care and Use Committee of the Hubei Province, People's Republic of China.
Clinical evaluation
After PCV2 and HPS4 challenge, piglets were monitored daily and scored for clinical signs including rectal temperatures, prostration, dyspnea, cough, anorexia, limping vomiting and other symptoms: MO mortality, TR trembling, CY cyanosis, DI diarrhea. The piglets were observed and weighed from 3 days prior-challenge to 28 days post-challenge, finally slaughtered at 28 DPI. Clinical Observation Record is summarized in Table
1
.
Table 1
Clinical Observation Record
| Group | Prostration | Dyspnea | Caugh | Anorexia | Limping | Vomiting | Other symptoms |
| --- | --- | --- | --- | --- | --- | --- | --- |
| Control | 0/6 | 0/6 | 0/6 | 0/6 | 0/6 | 0/6 | None |
| PCV2 | 4/6 | 3/6 | 0/6 | 2/6 | 0/6 | 0/6 | TM, DR |
| HPS4 | 4/6 | 2/6 | 3/6 | 3/6 | 5/6 | 0/6 | TM |
| PCV2/HPS4 | 5/6 | 3/6 | 3/6 | 3/6 | 6/6 | 0/6 | TM, DR |
Detection of antibodies to PCV2 by indirect ELISA
Blood samples were collected on 0, 1, 3, 5, 7, 14, 21 and 28 DPI. Anti -PCV2 ORF2 antibodies were tested by enzyme-linked immunosorbent assays (ELISA) as Chun described previously [
11
]. The calibrated OD for each tested and control serum was calculated by subtraction of mean OD of the wells containing negative antigen from that of the parallel wells containing PCV2 antigen. The data were normalized by dividing the calibrated OD of a tested serum sample by that of the positive control serum and were reported as the sample/positive (S/P) ratios. The samples with serum sample/positive control serum ratios of ≤0.2 and >0.2 were considered negative and positive, respectively. In addition, the calibrated OD for the positive serum control had to be equal or higher than 0.4 for the assay to be valid.
Quantification of PCV2 genomes by real-time PCR in tissues
Tissues were grinded into homogenate supernatants and Virus DNA was extracted with Viral DNA Kit (OMEGA, USA). Viral loads in tissues were quantificated by a TaqMan real-time PCR [
12
]. The reactions were performed on an ABI Prism 7500 thermocycler (Applied Biosystem, Foster City, CA, USA).
Total white blood cell (WBC) counts
Total WBC counts in EDTA-stabilized blood were measured using Beckman-Coulter Ac.T diff 2 automated haematological analyzer (Coulter Corp, A Beckman Coulter Co, Miami, Florida).
Histopathology
All piglets were inoculated and slaughtered at 28 DPI. Samples of lung, lymph nodes, tonsil, kidney, spleen, heart, liver and brain were collected and fixed in 10% neutral buffered formalin for 2–4 days, then embedded in paraffin for hematoxylin and eosin (HE) straining. Histopathology examination was observed with optical microscope (Olympus).
Statistical analysis
The data were analyzed using independent sample T-test with the computing software Statistical Package for the Social Sciences (SPSS), and the results were expressed as mean value ± standard error of the mean (S.E.M.). A
P
-value of results was considered significant at probability (
P
-values ≤0.05).
Results
Discussion
Conclusions
We have shown that the clinical manifestations of the coinfection model are similar to those observed during the PMWS epidemic in China. The HPS4 epidemic may have played a role in the occurrence and development of PMWS. The general level of importance of HPS4 has always been less than HPS5 because of the characteristic low virulence of the former. However, piglets coinfected with PCV2 and HPS4 exhibited serious clinical symptoms affecting multiple organs, especially the lungs, lymph nodes and kidney. Therefore, it is necessary to control bacterial infection by adopting measure to prevent and control PCV2 infection.
Acknowledgements
The project was supported by Merial Limited and the Program for National Agriculture Research System of China (nycytx-009).
Funding
This work was supported by China Agriculture Research System(CARS-36).
Availability of data and materials
Materials described in the manuscript are freely available to any scientist wishing to use them.
Ethics approval and consent to participate
Not applicable.
Consent for publication
Not applicable.
Competing interests
The authors declare that they have no conflicts of interest.
Publisher's Note
Springer Nature remains neutral with regard to jurisdictional claims in published maps and institutional affiliations.
Open Access
This article is distributed under the terms of the Creative Commons Attribution 4.0 International License (
http://​creativecommons.​org/​licenses/​by/​4.​0/​
), which permits unrestricted use, distribution, and reproduction in any medium, provided you give appropriate credit to the original author(s) and the source, provide a link to the Creative Commons license, and indicate if changes were made. The Creative Commons Public Domain Dedication waiver (
http://​creativecommons.​org/​publicdomain/​zero/​1.​0/​
) applies to the data made available in this article, unless otherwise stated.