01.12.2017 | Case report | Ausgabe 1/2017 Open Access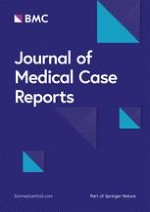 Colchicine triggered severe rhabdomyolysis after long-term low-dose simvastatin therapy: a case report
Zeitschrift:
Autoren:

Clara Frydrychowicz, Bastian Pasieka, Matthias Pierer, Wolf Mueller, Sirak Petros, Lorenz Weidhase
Background
Statins are a common group of cholesterol-lowering pharmaceuticals, with the shared pharmacodynamical characteristic of 3-Hydroxy-3-Methylglutaryl-Coenzym-A-Reduktase (3-HMG-CoA) inhibition, the key enzyme in cholesterol synthesis. Inhibition of 3-HMG-CoA by statins is the most effective way of lowering low-density lipoprotein (LDL) cholesterol. Even though adverse effects are frequent, severe complications occur in less than one out of 10,000 patients [
1
]. Between 2005 and 2011 the US Food and Drug Administration (FDA) Adverse Event Reporting System identified 147,789 case reports with suspected statin-associated myopathy (SAM), including patients with rhabdomyolysis. Rhabdomyolysis as a major statin-associated adverse effect has been reported for all available statins [
2
] with the highest rate reported for simvastatin [
2
]. The incidence of clinically relevant rhabdomyolysis is not well defined, but large cohort studies showed incidences of 0.1% [
3
]. Rhabdomyolysis is defined by creatine kinase (CK) levels at least 10 times normal and reflects acute and massive muscle fiber necrosis accompanied by the release of muscle-related metabolites into the bloodstream [
4
]. Mortality in general is low with 0.15 deaths per 1 million [
5
]. Patients with rhabdomyolysis present with muscle weakness, myalgia and brown "tea-colored" urine. Concomitant statin medication in a patient with signs of rhabdomyolysis strongly suggests SAM. Clinical diagnosis without biopsy is possible and depends on multiple symptoms and signs, laboratory findings, and anamnestic characteristics. Rhabdomyolysis with histopathological confirmation has the strongest impact on the diagnosis of SAM. For reference see Table
1
. Standard therapy for rhabdomyolysis consists of urine alkalization, aggressive intravenous administration of fluids, and in some cases short-term dialysis and immediate withdrawal of the statin. Here, we report a case of a sudden severe rhabdomyolysis with consecutive renal failure in a patient who received low-dose simvastatin therapy for 6 years without previous complications. This case highlights the difficulty of identifying potential causing or aggravating substances that can lead to SAM and provides high quality histopathological and immunohistochemical pictures of a typical toxic rhabdomyolysis in a patient with statin-induced rhabdomyolysis.
Table 1
Diagnosis of statin-induced myopathy
| Feature | Points |
| --- | --- |
| Symmetrical myalgia | 1 |
| Occurrence within 4 weeks from the start of statin therapy | 1 |
| Symptoms resolving with withdrawal of therapy | 1 |
| Family history of statin-induced myopathy | 1 |
| Elevation of creatine kinase | 2 |
| Positive re-challenge test | 2 |
| Confirmed rhabdomyolysis | 5 |
| Histological confirmation of statin-induced myopathy | 5 |
Case presentation
A 70-year-old obese white man presented with acute kidney failure after a 1-year history of progressive muscle weakness and severe generalized myalgia, with difficulty in walking and climbing stairs. His past medical history was significant for chronic renal dysfunction (Kidney Disease Outcomes Quality Initiative IV), chronic heart failure (New York Heart Association III), coronary heart disease with acute myocardial infarction and coronary artery bypass, chronic atrial fibrillation, diabetes type 2, hyperlipoproteinemia, gout, and obstructive sleep apnea syndrome. He had a 6-year history of low-dose simvastatin medication with a daily dose of 40 mg. Further medication included acetylsalicylic acid, rivaroxaban, metoprolol, ramipril, furosemide, molsidomine, isosorbide dinitrate, pantoprazole, and insulin. Colchicine was prescribed as required (0.5 to 1 mg). He had no past medical history of muscular toxicity with statin use.
On admission he was in poor general condition. A clinical examination revealed symmetric proximal muscle weakness of all extremities (level of strength 3/5). Electroneurographic and myographic diagnostics showed chronic myopathic alterations in all of the examined muscles of his upper and lower extremities. Alterations were more pronounced in proximal muscle groups of his lower extremities. He had dyspnea induced by light exercise, edema of lower extremities, no fever, and no rashes.
His CK was elevated with activities >334 μkat/l (Table
2
). Antibody diagnostics provided no typical findings for classical antibody-positive autoimmune myositis: dermatomyositis, systemic lupus erythematosus (SLE), scleroderma-myositis overlap syndromes, and Sjögren's (Sj) antibody-positive autoimmune myositis.
Table 2
Patient laboratory data on hospitalization
| Parameter | Value | Reference |
| --- | --- | --- |
| CK | >334 μkat/l | 0.63–2.91 μkat/l |
| Myoglobin | 21896 μg/l | 28–72 μg/l |
| ASAT | 4.54 μkat/l | 0.17–0.85 μkat/l |
| LDH | 22.54 μkat/l | 2.25–3.75 μkat/l |
| Creatinine | 596 μmol/l | 59–104 μmol/l |
| GFR MDRD | 8.7 ml/min | |
| Urea | 50.7 mmol/l | <11.9mmol/l |
| TSH | 0.928 mU/l | 0.4–3.77 mU/l |
Based on the combination of acute kidney failure with muscle weakness and severe generalized myalgia combined with an elevated CK, a muscle biopsy was performed to confirm the diagnosis of SAM and exclude possible differential diagnoses, such as polymyositis. Histology predominantly revealed single fiber necrosis. Necrotic muscle fibers were present throughout the biopsy in a scattered distribution. Some necrotic fibers were in a state of macrophage-mediated degradation (myophagocytosis). Despite widespread scattered muscle fiber necrosis, the tissue was devoid of an interstitial or endomysial inflammatory infiltrate. Immunohistochemistry highlighted a striking sarcolemmal and cytoplasmic upregulation of major histocompatibility complex (MHC) class I expression. Also, complement membrane attack complex (C5b-9)-positive deposits were detected on endothelial cells of endomysial capillaries and on the sarcolemma and in the cytoplasm of necrotic muscle fibers (Fig.
1
). The histopathological diagnosis of SAM was made, followed by serum testing for the anti-HMGCR antibody. No anti-HMGCR antibody was detected.
×
Acute renal failure, which was induced by muscle necrosis, necessitated a continuous veno-venous hemofiltration (CVVH). Simvastatin was withdrawn and replaced by Ezetrol (ezetimibe). After 3 days of CVVH, his renal function was completely restored. After 15 days his myoglobin and CK levels had normalized (Fig.
2
). He was discharged without further complaints on day 18 after hospitalization.
×
Discussion
Conclusions
We wish to alert clinicians to the fact that side effects of statins do occur even after a long uneventful statin medication; they should be advised not to exclude that possibility upfront, even if a patient has tolerated the medication for years. In particular, for patients with multiple drugs, clinicians should be aware of possible drug–drug interactions such as colchicine and statins. In cases in which colchicine is indicated, statins not metabolized via the CYP3A4 system should be preferred. Patients with muscle-related symptoms and statin medication should immediately be checked for an increase in CK and levels should be monitored after statin medication is stopped. In cases of persistent elevated CK levels after cessation of statin medication, other causes of elevated CK levels should be considered and investigated, including anti-HMGCR-associated SAM. Further studies are needed to clarify the different pathogeneses of statin-induced myopathies, as well as the optimal management of patients with this severe side effect.
Acknowledgements
Not applicable.
Availability of data and materials
Not applicable.
Authors' contributions
CF histopathological diagnosis and manuscript design. BP treatment of patient, patient investigation, screening laboratory data, and manuscript design. MP treatment of patient and treatment supervision. WM histopathological diagnosis and manuscript draft. SP manuscript draft. LW first-line treatment of patient, initiating manuscript work, and manuscript design. All authors read and approved the final manuscript.
Competing interests
The authors declare that they have no competing interests.
Consent for publication
Written informed consent was obtained from the patient for publication of this case report and any accompanying images. A copy of the written consent is available for review by the Editor-in-Chief of this journal.
Open Access
This article is distributed under the terms of the Creative Commons Attribution 4.0 International License (
http://​creativecommons.​org/​licenses/​by/​4.​0/​
), which permits unrestricted use, distribution, and reproduction in any medium, provided you give appropriate credit to the original author(s) and the source, provide a link to the Creative Commons license, and indicate if changes were made. The Creative Commons Public Domain Dedication waiver (
http://​creativecommons.​org/​publicdomain/​zero/​1.​0/​
) applies to the data made available in this article, unless otherwise stated.