01.12.2016 | Research article | Ausgabe 1/2016 Open Access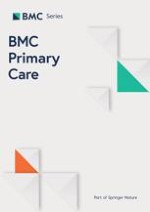 Collaborating in the context of co-location: a grounded theory study
Zeitschrift:
Autoren:

Pamela Wener, Roberta L. Woodgate
Wichtige Hinweise
Competing interests
Neither of the two authors have any competing interests to report.
Authors' contributions
PW and RLW contributed to the conception and design of the study. PW was responsible for all data collection. PW and RLW performed the data analysis and contributed to the drafting, reviewing, and approving the article. Both authors read and approved the final manuscript.
Author' information
PW is an Associate Professor at the College of Rehabilitation Sciences, Department of Occupational Therapy, Faculty of Health Sciences at the University of Manitoba. PW is also a doctoral student, Individual Interdisciplinary Studies (Nursing, Occupational Therapy, Education), Faculty of Graduate Studies at the University of Manitoba.
RLW is a Professor at the College of Nursing, Faculty of Health Sciences at the University of Manitoba. RLW holds a Canadian Institutes of Health Research Applied Chair in Reproductive, Child and Youth Health Services and Policy Research.
Abstract
Background
Most individuals with mental health concerns seek care from their primary care provider, who may lack comfort, knowledge, and time to provide care. Interprofessional collaboration between providers improves access to primary mental health services and increases primary care providers' comfort offering these services. Building and sustaining interprofessional relationships is foundational to collaborative practice in primary care settings. However, little is known about the relationship building process within these collaborative relationships. The purpose of this grounded theory study was to gain a theoretical understanding of the interprofessional collaborative relationship-building process to guide health care providers and leaders as they integrate mental health services into primary care settings.
Methods
Forty primary and mental health care providers completed a demographic questionnaire and participated in either an individual or group interview. Interviews were audio-recorded and transcribed verbatim. Transcripts were reviewed several times and then individually coded. Codes were reviewed and similar codes were collapsed to form categories using using constant comparison. All codes and categories were discussed amongst the researchers and the final categories and core category was agreed upon using constant comparison and consensus.
Results
A four-stage developmental interprofessional collaborative relationship-building model explained the emergent core category of Collaboration in the Context of Co-location. The four stages included 1) Looking for Help, 2) Initiating Co-location, 3) Fitting-in, and 4) Growing Reciprocity. A patient-focus and communication strategies were essential processes throughout the interprofessional collaborative relationship-building process.
Conclusions
Building interprofessional collaborative relationships amongst health care providers are essential to delivering mental health services in primary care settings. This developmental model describes the process of how these relationships are co-created and supported by the health care region. Furthermore, the model emphasizes that all providers must develop and sustain a patient-focus and communication strategies that are flexible. Applying this model, health care providers can guide the creation and sustainability of primary care interprofessional collaborative relationships. Moreover, this model may guide health care leaders and policy makers as they initiate interprofessional collaborative practice in other health care settings.