01.12.2018 | Research | Ausgabe 1/2018 Open Access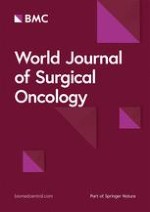 Colorectal dysplasia and adenocarcinoma in patients with ulcerative colitis: an experience from a tertiary care hospital
Zeitschrift:
Autoren:

Naila Younus, Mariam Abid, Atif Ali Hashmi, Saher Aijaz, Muhammad Muzzammil Edhi, Ahmareen Khalid Sheikh, Amir Khan
Abstract
Background
The rationale behind this study was to find out the frequency of dysplasia and colorectal cancer (CRC) in young patients with ulcerative colitis (UC) using histopathological examination. This facilitated early detection of dysplasia and CRC by regular endoscopic biopsies and also guided physicians on appropriate surveillance and management, thus improved outcome.
Methods
It was a prospective cross-sectional study conducted at the Department of Pathology, PIMS, Islamabad. Seventy-six biopsies of already diagnosed cases of UC of young patients aged between 15 and 40 years of either gender were included. Specimens were fixed in 10% buffer formalin, paraffin embedded followed by cutting, slide preparation, and staining with hematoxylin and eosin (H&E) stain, and examined under light microscope. Statistical package for social sciences (SPSS 21) was used for data compilation and analysis. Mean and standard deviation were calculated for quantitative variables. Frequency and percentage were calculated for qualitative variables.
Results
There were 13 (17.2%) patients who were diagnosed with colorectal dysplasia, 3 (4.0%) with indefinite for dysplasia, 8 (10.5%) with low-grade dysplasia, and 2 (2.6%) with high-grade dysplasia. There were three (3.9%) patients who were diagnosed for colorectal carcinoma, one (1.3%) with grade 1, one (1.3%) with grade 2, and one (1.3%) with grade 3 CRC.
Conclusion
Routine biopsies can identify dysplastic epithelium, which is an established sign for synchronized carcinoma with ulcerative colitis, and give the rationale for surveillance of the patients.