01.12.2018 | Research article | Ausgabe 1/2018 Open Access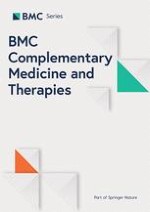 Combination of
Pelargonium sidoides

and

Coptis chinensis

root inhibits nuclear factor kappa B-mediated inflammatory response in vitro and in vivo
Zeitschrift:
Autoren:

Sang Mi Park, Byung-Gu Min, Ji Yun Jung, Kyung Hwan Jegal, Chul Won Lee, Kwang Youn Kim, Young Woo Kim, Youn-Woong Choi, Il Je Cho, Sae Kwang Ku, Sang Chan Kim
Abstract
Background
Pelargonium sidoides
(PS) and
Coptis chinensis
root (CR) have traditionally been used to treat various diseases, including respiratory and gastrointestinal infections, dysmenorrhea, and hepatic disorders. The present study was conducted to evaluate the anti-inflammatory effects of a combination of PS and CR in vitro and in vivo.
Methods
The in vitro effects of PS + CR on the induction of inflammation-related proteins were evaluated in lipopolysaccharide (LPS)-stimulated RAW 264.7 cells. The levels of nitric oxide (NO) and of inflammatory cytokines and prostaglandin E
2
(PGE
2
) were measured using the Griess reagent and enzyme-linked immunosorbent assay (ELISA) methods, respectively. The expression of inflammation-related proteins was confirmed by Western blot. Additionally, the effects of PS + CR on paw edema volume, skin thickness, and numbers of infiltrated inflammatory cells, mast cells, COX-2-, iNOS-, and TNF-α-immunoreactive cells in
dorsum
and
ventrum pedis
skin were evaluated in a rat model of carrageenan (CA)-induced paw edema.
Results
PS + CR significantly reduced production of NO, PGE2 and three pro-inflammatory cytokines (tumor necrosis factor-α (TNF-α), interleukin (IL)-1β, and IL-6) and also decreased levels of inducible nitric oxide synthase (iNOS) and cyclooxygenase-2 (COX-2). Treatment with PS + CR significantly reduced the protein expression levels of LPS-stimulated nuclear factor kappa B (NF-κB) and phosphorylated inhibitor of NF-κB (p-I-κBα). Additionally, PS + CR significantly inhibited the increases in paw swelling, skin thickness, infiltrated inflammatory cells, mast cell degranulation, COX-2-, iNOS-, and TNF-α-immunoreactive cells in the rat model of CA-induced acute edematous paw.
Conclusions
These results demonstrate that PS + CR exhibits anti-inflammatory properties through decreasing the production of pro-inflammatory mediators (NO, PGE2, TNF-α, IL-1β, and IL-6), suppressing NF-κB signaling in LPS-induced RAW 264.7 cells. Additionally, the results of the CA-induced rat paw edema assay revealed an anti-edema effect of PS + CR. Furthermore, it is suggested that PS + CR also inhibits acute edematous inflammation by suppressing mast cell degranulation and inflammatory mediators (COX-2, iNOS, and TNF-α). Thus, PS + CR may be a potential candidate for the treatment of various inflammatory diseases, and it may also contribute to a better understanding of the molecular mechanisms underlying inflammatory response regulation.