01.12.2014 | Research | Ausgabe 1/2014 Open Access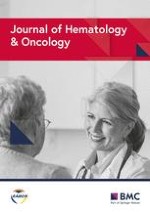 Combination of the ABL kinase inhibitor imatinib with the Janus kinase 2 inhibitor TG101348 for targeting residual BCR-ABL-positive cells
Zeitschrift:
Autoren:

Seiichi Okabe, Tetsuzo Tauchi, Seiichiro Katagiri, Yuko Tanaka, Kazuma Ohyashiki
Wichtige Hinweise
Electronic supplementary material
The online version of this article (doi:
10.​1186/​1756-8722-7-37
) contains supplementary material, which is available to authorized users.
Competing interests
The authors declare no competing interests.
Authors' contributions
SO, TT, SK, YT, and KO conceived and designed the experiments; SO performed the experiments; and SO, TT, SK, YT, and KO contributed reagents and wrote the manuscript. All authors read and approved the final manuscript.
Abbreviations
TKI
Tyrosine kinase inhibitor
GM-CSF
Granulocyte macrophage colony-stimulating factor
STAT
Signal transducer and activator of transcription
Background
Here, we investigated the effect of TG101348 on residual CML cells. We demonstrated that co-treatment with imatinib and TG101348 increased the cytotoxic effect in CD34-positive CML samples. We also found that cytokine production, which supported growth of CML cells, was reduced by TG101348.
Results
Discussion
Conclusions
Our results indicate that co-treatment with imatinib and JAK2 inhibitors may have the potential for targeting residual CML cells by enhancing imatinib efficiency and reducing cytokine production by stromal cells. Therefore, this approach may represent an important therapeutic strategy for patients with CML.
Methods
Cell culture and reagents
The BCR-ABL-positive leukemia cell line K562 and human bone marrow stromal cell line HS-5 were obtained from the American Type Culture Collection (Rockville, MD, USA). Cells were cultured in the Roswell Park Memorial Institute 1640 medium containing 10% fetal bovine serum and maintained at 37°C in a 5% CO2 humidified atmosphere. The JAK2 inhibitor TG101348 was purchased from Shanghai APIs Chemical (Shanghai, China) and the ABL kinase inhibitor imatinib was provided by Novartis Pharma AG (Basel, Switzerland). Stock solutions of TG101348 were prepared in dimethyl sulfoxide, while that of imatinib was prepared in distilled water. These stock solutions were further diluted in growth medium to achieve the desired concentrations. Antibodies (Abs) against phosphor-Abl, phospho Crk-L, STAT5, MAPK, cleaved caspase-3, and PARP were purchased from Cell Signaling Technology (Danvers, MA, USA). Erk-1, Crk-L, and STAT5 Abs were purchased from BD Biosciences (San Jose, CA, USA). The anti-Abl Ab was purchased from Santa Cruz Biotechnology (Santa Cruz, CA, USA). Other reagents were obtained from Sigma-Aldrich (St. Louis, MO, USA).
Primary BCR-ABL-positive and normal control cells
This study protocol was approved by the Institutional Review Board of Tokyo Medical University, and written informed consent was provided by all patients in accordance with the Declaration of Helsinki. Primary samples were collected from untreated peripheral blood of patients with CML or from the bone marrow of normal healthy donor after obtaining written informed consent. The peripheral blood was collected in heparinized tubes, and mononuclear cells were separated using LymphoSepare (Immuno-Biological Laboratories, Minneapolis, MN, USA). These cells were either used immediately or cryopreserved in liquid nitrogen until use.
Cell proliferation assay
Cells were seeded in 24- or 96-well plates at a density of 8 × 104 or 8 × 103 cells/well. Next, cells were treated with the inhibitors at the indicated concentrations: imatinib, 100 nM to 2 μM; and TG101348, 100 nM to 1 μM. Viable cells were either counted using trypan blue exclusion or were stained with a cell counting kit solution (Dojin, Kumamoto, Japan) and measured spectrophotometrically (A450) to determine cell viability. In some experiments, cells were co-cultured with human stromal cells. After cultivating the HS-5 cells at a density of 1 × 105 cells/well in 24-well plates overnight, the K562 cells were plated onto the HS-5 cells, cultured for 3 days, and analyzed for cell proliferation. To analyze the activity of the soluble factors produced by HS-5 cells, K562 cells were cultured for 72 h in the presence of HS-5 conditioned medium from cultures that that were either not treated with imatinib or treated with the drug at the indicated concentrations. Cell proliferation was then analyzed.
siRNA transfection
siRNAs targeting the JAK family members were purchased from Santa Cruz Biotechnology (sc-39099). K562 cells were transfected with a siRNA targeting JAK2 by electroporation, as described previously [
30
].
Immunoblotting
Immunoblotting was performed as described previously [
31
]. After different treatments were performed as indicated above, cells were collected by centrifugation and lysed by sonication using the radioimmunoprecipitation assay lysis buffer. Protein content in the lysates was determined using a protein assay kit (Bio-Rad Laboratories, Hercules, CA, USA). Forty micrograms of total cellular proteins were separated on 4–20% polyacrylamide gels and transferred to polyvinylidene difluoride membranes. Next, the membranes were probed using primary Abs of interest at the appropriate dilutions for 2 h at room temperature. The blots were visualized by the chemiluminescent method using the Amersham ECL chemiluminescence kit (GE Healthcare, Tokyo, Japan). Immunoblots were quantified using ImageJ software (NIH, Bethesda, MD, USA).
Cytokine array
After culturing HS-5 cells in the presence or absence of TG101348, the culture medium was collected. Cytokine levels in the medium were measured using the human cytokine panel A (Proteome Profiler™) (R&D Systems, Minneapolis, MN, USA). Horseradish peroxidase substrate was used to detect protein expression, and data were visualized using Kodak Biomax Light film. Arrays were scanned and optical densities were determined using ImageJ software.
In vivo studies
Six-week-old female BALB/c nude mice were purchased from CLEA Japan Inc. (Tokyo, Japan). Mice were injected subcutaneously with 1 × 107 Ba/F3 wild-type BCR-ABL cells. Mice were treated after 5 days with 40 mg/kg imatinib intraperitoneally or 30 mg/kg TG101348 orally or a combination of the two agents for 5 days per week. Control mice were treated with phosphate-buffered saline. Tumor sizes were analyzed every day. The average tumor weight per mouse (n = 6) was calculated.
Statistical analysis
We used Student's
t
-test to determine differences in response to the various treatments.
p
 < 0.05 was considered statistically significant.
Acknowledgments
This study was supported by a "High-Tech Research Center" Project for private universities, a matching fund subsidy from the Ministry of Education, Culture, Sports, Science and Technology (MEXT); and by the "University-Industry Joint Research Project" for private universities, a matching fund subsidy from MEXT. This study was also supported by Grants-in-Aid for Scientific Research from MEXT.
This article is published under license to BioMed Central Ltd. This is an Open Access article distributed under the terms of the Creative Commons Attribution License (
http://​creativecommons.​org/​licenses/​by/​4.​0
), which permits unrestricted use, distribution, and reproduction in any medium, provided the original work is properly credited. The Creative Commons Public Domain Dedication waiver (
http://​creativecommons.​org/​publicdomain/​zero/​1.​0/​
) applies to the data made available in this article, unless otherwise stated.
Competing interests
The authors declare no competing interests.
Authors' contributions
SO, TT, SK, YT, and KO conceived and designed the experiments; SO performed the experiments; and SO, TT, SK, YT, and KO contributed reagents and wrote the manuscript. All authors read and approved the final manuscript.