01.01.2011 | Scientific Article | Ausgabe 1/2011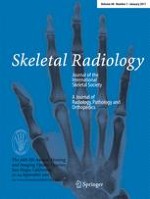 Combination radiofrequency ablation and cementoplasty for palliative treatment of painful neoplastic bone metastasis: experience with 53 treated lesions in 36 patients
Zeitschrift:
Autoren:

Michael David Lane, Huy B. Q. Le, Steven Lee, Casey Young, Manraj K. S. Heran, Maziar Badii, Paul William Clarkson, Peter L. Munk
Abstract
Objective
We report the safety and efficacy of combined radiofrequency ablation and cementoplasty in treating painful neoplastic bone lesions.
Materials and Methods
Fifty-three combined radiofrequency ablation and cementoplasty procedures were completed in 36 patients. Thirty-four vertebrae (20 lumbar, 14 thoracic), 14 acetabulae, 3 sacra, 1 pubic symphysis, and 1 humerus were treated. Patient age ranged from 34 to 81 years (mean 57.6 years, SD = 12.6). Primary malignancies included: 12 breast, 5 lung, 6 multiple myeloma, 2 prostate, 2 renal cell carcinoma, 1 synovial sarcoma, 1 endometrial, 1 oral squamous cell carcinoma, 1 lymphoma, 1 colon, 1 transitional cell carcinoma, 1 colorectal, 1 cholangiocarcinoma, and 1 pheochromocytoma. Primary neoplasm location, pain levels pre- and post-procedure (as assessed using the Visual Analog Scale), number of radiofrequency (RF) treatments and any extravasation were documented.
Results
Combined radiofrequency ablation (RFA) and cementoplasty procedures were performed with 100% technical success (53 out of 53). The mean pre-procedure and post-procedure pain, as measured by the Visual Analog Scale (VAS), was 7.2/10 and 3.4/10 respectively. Symptomatic complications included one case of self-resolving transient thermal sciatic neurapraxia following RFA and acetabuloplasty. Two cases of transient pain following epidural leaks during treatment of thoracic vertebrae and breast metastases also occurred. Non-symptomatic complications, from a variety of cases, included cement emboli to the lung, incidental, non-symptomatic leaks into the needle track, spinal canal, draining veins, disc spaces, and an intra-articular leak into the hip joint.
Conclusion
Combined RFA and cementoplasty appears to be safe, practical and effective in the palliative treatment of painful neoplastic lesions.