01.12.2019 | Review | Ausgabe 1/2019 Open Access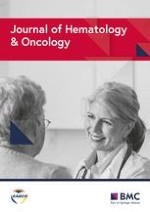 Combination regimens with PD-1/PD-L1 immune checkpoint inhibitors for gastrointestinal malignancies
Zeitschrift:
Autoren:

Dongxu Wang, Jianzhen Lin, Xu Yang, Junyu Long, Yi Bai, Xiaobo Yang, Yilei Mao, Xinting Sang, Samuel Seery, Haitao Zhao
Wichtige Hinweise
Dongxu Wang, Jianzhen Lin, and Xu Yang are equal contributors.
Abbreviations
ASCO
American Society of Clinical Oncology
CAFs
Cancer-associated fibroblasts
CTLA4
Cytotoxic T lymphocyte antigen-4
CXCR2
C-X-C Motif chemokine Receptor 2
dMMR
Mismatch repair deficient
ECC
Extrahepatic cholangiocarcinoma
EGFR
Epidermal growth factor receptor
FDA
Food and Drug Administration
GEC
Gastroesophageal junction cancer
GITR
Glucocorticoid-induced TNFR family related gene
ICC
Intrahepatic cholangiocarcinoma
ICPIs
Immune checkpoint inhibitors
IDO
Indoleamine 2,3-dioxygenase
irAEs
Immune-related adverse events
LAG-3
Lymphocyte-activation gene 3
MANAs
Mutation-associated neoantigens
MDSCs
Myeloid-derived suppressor cells
MHC
Major histocompatibility complex
MSI-H
Microsatellite instability-high
NSCLC
Non-small cell lung cancer
P13K
Phosphoinositide 3-kinase
PD-L1
Programmed cell death ligand-1
PD-L2
Programmed cell death ligand-2
PFS
Progression-free survival
pMMR
mismatch repair proficient
RCTs
Randomized clinical trials
SCCA
Squamous cell carcinoma of the anal canal
TAMs
Tumor-associated macrophages
TILs
Tumor infiltrating lymphocytes
TIM-3
T cell immunoglobulin mucin-3
TNFRSF4
Tumor necrosis factor receptor super family member 4
TRAEs
Treatment-related adverse events
TR-TEAEs
Treatment-related treatment-emergent adverse events
VEGF
Vascular endothelial growth factor
Background
Gastrointestinal (GI) neoplasms threaten human health and account for approximately 35% of all cancer-related mortalities among common malignancies [
1
]. Typically, patients are diagnosed accidentally with latent, unspecific symptoms reducing the already limited number of possible interventions. Surgical resection can be curative; however, the majority of patients are diagnosed in the advanced stages of this condition, therefore the opportunity for a radical cure is lost. The prevalence and impact of this insidious disease as well as limited treatment options necessitates the systematic search for innovative evidence-based treatments.
Advances in our understanding of immune-system/tumor interactions have led researchers to uncover new diagnostic pathways which may result in earlier identification. Also, several immunotherapies for the treatment of GI tumors have recently emerged. Among these new interventions, immune checkpoint inhibitor therapies are perhaps the most promising strategy [
2
]. Indeed, the findings from many clinical trials suggest that immunological checkpoint blockade therapies may be effective for various types of tumor, with durable responses and manageable toxicity, regardless of pathologic grade [
3
]. For those with GI tumors, blocking programmed cell death protein-1 (PD-1/CD279) or the ligand PD-L1 is also effective in approximately 20–40% patients. Due to such outcomes and with this moderate success, PD-1/PD-L1 blockades have been approved by the FDA for advanced colorectal, gastric, and liver cancers.
In contrast to other tumors such as lung cancer and breast cancer, GI tumors have mesenchymal traits which hinder the infiltration of immune cells thereby crippling the antitumor response [
4
]. Likewise, the immunotherapeutic effects upon digestive tract tumors vary substantially which is perhaps due to different molecular and immunological characteristics. As such, several researchers have called for GI tumors to be reclassified based upon molecular type rather than around anatomical systems and histological features only [
5
]. Despite this call for change, high mortality rates associated with these malignancies continues to drive clinical research in this field. Several phase I–III trials focusing on immunotherapies for GI tumors have found what can only be described as unsatisfactory objective response rates (ORR), ranging between 10 and 25% [
6
]. In addition, problems such as drug resistance and the side effects of anti-PD-1/PD-L1 treatments remain challenging [
7
]. So, while this growing body of evidence suggests that target-driven treatment strategies are essential, there is a paucity of research from which to design new interventions.
Presently, the logical next step appears to be combining immunotherapies with antitumor drugs and some progress has been made in preclinical and clinical studies which suggest that combined immunotherapies may increase benefit. However, this is a relatively new field of study hence effort should be made to embed research systematicity using secondary literature. As such, this study focuses on reviewing the current limitations of immune checkpoint blockade monotherapies and to critically discuss the rationale behind combination strategies based on the PD-1/PD-L1 blockade. The aim is to provide researchers and practitioners with a summary of the clinical applications of combination therapies for patients with upper and lower GI tumors and to explore the arguments around combination immunotherapies.
PD-1/PD-L1 pathway blockade: current limitations in clinical treatment
Combination immunotherapy: future steps for effective immunotherapy
Rationale behind combined immunotherapies based on PD-1/L1 blockade
Approaches and mechanisms for combining PD-1/PD-L1 with antitumor therapies
Current applications of combination immunotherapy in gastrointestinal tumors
Among the cluster of digestive tract tumors, histological differences are significant and are generally used to determine which approach to implement, especially for advanced tumors. For example, radiotherapy is efficacious in patients with esophageal cancer but not in patients with pancreatic cancer. Likewise, chemotherapy is the main stay for the treatment of patients with advanced gastric cancer but chemotherapeutic regimens are not generally administered for hepatocellular carcinoma. Therefore, combining superior interventions for digestive tract tumors with a single-drug immunotherapy may achieve enhanced immune expansion, despite the efficacy of PD-1/PD-L1 blockades varying substantially. Most studies are in the early phase clinical trials, although there are some which have progressed to phase III (Table
1
). In this section, we systematically review officially published clinical studies for GI cancer sought through
clinicaltrial.​gov
, PubMed, and in gray literature including conferences, such as ASCO and ESMO. Levels of efficacy will be critical discussed for several major digestive system tumors using relevant treatment indexes (i.e., OS, PFS, etc.).
Table 1
Ongoing phase 3 clinical trials of combined immunotherapy in gastrointestinal cancers
| Tumor type | Phase/participants | Immune checkpoint inhibitors classification | Combination intervention | Status | ClinicalTrials.gov identifier |
| --- | --- | --- | --- | --- | --- |
| Unresectable, recurrent, locally advanced or metastatic gastric or gastroesophageal junction adenocarcinoma | 3/371 | PD-L1 inhibitors | Avelumab + BSC VS physician's choice + BSC | Active, not recruiting | NCT02625623 |
| Various advanced cancers | 3/939 | PD-1 and CTLA-4 inhibitors | Nivolumab + ipilimumab or nivolumab + fluorouracil + cisplatin VS fluorouracil + cisplatin | Recruiting | NCT03143153 |
| Esophageal neoplasms | 3/700 | PD-1 inhibitors | Pembrolizumab + cisplatin and 5-fluorouracil (5-FU) VS placebo + cisplatin and 5-FU | Recruiting | NCT03189719 |
| Esophageal carcinoma| esophagogastric junction carcinoma | 3/720 | PD-1 inhibitors | Pembrolizumab (MK-3475) VS Investigator's Choice Standard Therapy | Active, not recruiting | NCT02564263 |
| Gastric cancer | 3/700 | PD-1 inhibitors | Nivolumab + S-1 therapy or CapeOX therapy VS placebo+ S-1 therapy or CapeOX therapy | Recruiting | NCT03006705 |
| Gastric cancer | 2,3/680 | PD-1 inhibitors | ONO-4538 + chemotherapy | Active, not recruiting | NCT02746796 |
| Gastric cancer| gastroesophageal junction cancer | 3/1649 | PD-1 and CTLA-4 inhibitors | Nivolumab + ipilimumab or nivolumab + chemotherapy VS chemotherapy alone | Recruiting | NCT02872116 |
| Gastric cancer| Gastroesophageal junction cancer | 3/860 | PD-1 inhibitors | Pembrolizumab (MK-3475) + chemotherapy VS placebo + chemotherapy | Recruiting | NCT03221426 |
| Stomach neoplasms | 3/780 | PD-1 inhibitors | Pembrolizumab (MK-3475) + chemotherapy VS placebo + chemotherapy | Not yet recruiting | NCT03675737 |
| Gastric neoplasms| gastroesophageal junction adenocarcinoma | 3/732 | PD-1 inhibitors | Pembrolizumab/Placebo + trastuzumab + Chemotherapy | Recruiting | NCT03615326 |
| Gastric adenocarcinoma | 3/764 | PD-1 inhibitors | Pembrolizumab as monotherapy, or pembrolizumab + Cisplatin + 5-fluorouracil (5-FU) or capecitabine; placebo + cisplatin + 5-FU or capecitabine | Active, not recruiting | NCT02494583 |
| Biliary tract neoplasms | 3/390 | PD-1 inhibitors | KN035 + gemcitabine + oxaliplatin VS gemcitabine + oxaliplatin | Recruiting | NCT03478488 |
| Hepatocellular carcinoma | 3/330 | PD-1 inhibitors | Pembrolizumab (MK-3475) or placebo + Best supportive care | Recruiting | NCT03062358 |
| Hepatocellular Carcinoma | 3/480 | PD-L1 inhibitors | Atezolizumab + bevacizumab VS sorafenib | Recruiting | NCT03434379 |
| Hepatocellular carcinoma | 3/1200 | PD-L1 and CTLA-4 inhibitors | Durvalumab + tremelimumab | Recruiting | NCT03298451 |
| Pancreatic cancer stage IV | 2/40 | PD-1 inhibitors | Nivolumab + cabiralizumab + gemcitabine VS gemcitabine | Not yet recruiting | NCT03697564 |
| Colorectal cancer | 3/363 | PD-L1 inhibitors | Cobimetinib + atezolizumab and atezolizumab monotherapy VS regorafenib | Active, not recruiting | NCT02788279 |
| Colorectal adenocarcinoma| mismatch repair deficiency | 3/347 | PD-L1 inhibitors | Atezolizumab, bevacizumab, Mfolfox6 VS bevacizumab, Mfolfox6 VS atezolizumab | Recruiting | NCT02997228 |
| Colon Adenocarcinoma| DNA repair disorder | 3/700 | PD-L1 and CTLA-4 inhibitors | Combination chemotherapy with or without atezolizumab | Recruiting | NCT02912559 |
| Colorectal cancer | 3/180 | PD-1 inhibitors | Nivolumab with standard of care therapy VS standard of care therapy for first-line treatment | Recruiting | NCT03414983 |
Esophageal carcinoma
Moderate progress has been made in the diagnosis and treatment of esophageal cancer; however, the 5-year survival rate for patients with advanced esophageal cancer remains less than 15%. A PD-1 blockade is mainly administered for patients with advanced esophageal cancer, including patients showing first-line drug resistant esophageal cancer, or localized progression and advanced metastasis. In the USA, pembrolizumab has been approved for the treatment of patients with chemotherapy-refractory PD-L1-positive gastroesophageal junction cancers on the basis of clinical activity observed in the KEYNOTE-059 trial. This study found that 95 patients, representing 42.4%, experienced a reduction in measurable tumor size with a corresponding 11.6% ORR [
95
]. However, the KEYNOTE-180 study also found a 14% ORR for PD-1 blockages in esophageal squamous cell carcinoma patients compared with that of esophageal adenocarcinoma patients which was only 5%. This finding was lower than had been expected given the findings in the KEYNOTE-28 study where the ORRs of squamous cell carcinoma and adenocarcinoma were 29% and 40%, respectively [
96
,
97
]. A subsequent phase III study, KEYNOTE-181 (NCT02564263), is currently looking to evaluate the activity of pembrolizumab versus a standard therapy in patients with metastatic esophageal carcinoma which progressed after receiving a first-line intervention. Preliminary outcomes suggest pembrolizumab is superior to chemotherapy for OS in PD-L1 with combined positive score ≥ 10 patients. The reported 12-month OS rate was 43% as opposed to 20%, and drug-related AEs associated with pembrolizumab were fewer than in the group which received chemotherapy alone (64% versus 86%).
ICPIs in esophageal cancer encourage optimism and combined with an immunotherapy may bring further benefit for those suffering esophageal cancer. Several clinical trials investigating PD-1 combined with radiotherapy have already been conducted with esophageal cancer patients. The CheckMate-032 study focused on double immunotherapeutic interventions for esophageal cancer and found a 24% ORR for nivolumab administered at 1 mg/kg plus ipilimumab administered at 3 mg/kg, with a corresponding PFS at 12 months of 17% (Table
2
). This finding was twice that of the group which received nivolumab alone. However, the treatment-related grade 3 and 4 AEs in the combination group was 47%, whereas with the single agent intervention resulted in only 17%. The authors concluded that treatment with this ipilimumab combination significantly increased the incidence of side effects [
98
]. Finding an appropriate combination is clearly required, further necessitating the development of this evidence-base.
Table 2
Key trials of combination immunotherapy in esophagogastric cancers
| Study/trial identifier | Tumor type | Phase | Participants | Combination intervention | Combination regimen type | Clinical endpoints | TRAEs | Reference |
| --- | --- | --- | --- | --- | --- | --- | --- | --- |
| CheckMate-032; NCT01928394 | Metastatic esophagogastric cancer | Ph-1/2 | 160 | Nivolumab 3 mg/kg; nivolumab 1 mg/kg + ipilimumab 3 mg/kg; nivolumab 3 mg/kg + ipilimumab 1 mg/kg | PD-1 + CTLA-4 | ORR: 12%, 24%, 8%; PFS rate at 12 months: 8%, 17%, 10%; OS rate at 12 months: 39%, 35%, 24% | Grade 3/4: 17%, 47%, 27% | |
| KEYNOTE-059 cohort 2; NCT02335411 | Advanced gastric cancer | Ph-2 | 25 | Pembrolizumab + 5-fluorouracil + cisplatin | PD-1 + Chemo | ORR: 60%; mPFS: 6.6 months; mOS: 13.8 months | Grade 3/4: 76% | |
| NCT02999295 | Advanced gastric adenocarcinoma | Ph-1/2 | 46 | Ramucirumab + nivolumab | PD-1 + Target | PR: 22%; DCR: 59% | Any grade: 87%; Grade 3/4: 13% | |
| NCT02013154 | Advanced gastroesophageal cancer | Ph-1 | 13 | Dickkopf-1 + pembrolizumab | PD-1 + Molecules | PR: 1 pt/9 pts; SD: 5 pts/9 pts; DCR at 6 weeks: 75% | Grade ≥ 3: 4 pts./9 pts | |
| Attraction-04; NCT02746796 | Unresectable advanced or recurrent G/GEJ cancer | Ph-2/3 | 40 | Nivolumab + oxaliplatin + S-1,or capecitabine; placebo + oxaliplatin + S-1, or capecitabine | PD-1 + Chemo | ORR: 68.4%; DCR: 86.8%; | Grade 3/4: 57.5% | |
| NCT02689284 | Advanced HER2+ gastric adenocarcinoma | Ph-1/2 | 60 | Margetuximab + Pembrolizumab | PD-1 + Target | ORR: 21.6%; DCR: 55%; mOS: 15.6 months | Grade ≥ 3: 16.7% | |
| NCT02864381 | Unresectable or recurrent gastric or gastroesophageal junction adenocarcinoma | Ph-2 | 144 | Andecaliximab 800 mg + nivolumab 3 mg/kg, or nivolumab 3 mg/kg alone | PD-1 + Molecules | ORR: ADX + nivo, 11.1%; nivo alone, 6.9%; mPFS: ADX + nivo, 1.8 months; nivo alone, 1.9 months; mOS: ADX + nivo, 7.2 months; nivo alone, 5.9 months | AEs leading to treatment discontinuation: ADX + NIVO, 1 pt.; nivo, 1 pt | |
| NCT02954536 | HER2-positive metastatic esophagogastric adenocarcinoma | Ph-2 | 24 | Pembrolizumab + chemotherapy/trastuzumab | PD-1 + Chemo/Target | ORR: 83%; mPFS: 11.4 months | Gr 2 fatigue (35%), Gr 2/3 nausea (35%), Gr 2 diarrhea (26%), Gr2 AST/ALT elevation (16%), Gr2 neutropenia (16%) | |
| NCT02689284 | Advanced HER2+ (IHC3+) gastric carcinoma | Ph-1/2 | 66 | Margetuximab 15 mg/kg + pembrolizumab 200 mg | PD-1 + Target | ORR: 41.4%; DCR: 72.4%; mPFS: 5.5 months | Grade ≥ 3: 18.2% | |
| NivoRam study; NCT02999295 | Advanced gastric adenocarcinoma | Ph-1/2 | 46 | Nivolumab 3 mg/kg, Q2W + ramucirumab 8 mg/kg, Q2W | PD-1 + Target | ORR: 26.7%; PFS rate at 6 months: 37.4%; mPFS: 2.9 months; mOS: 9.0 months | Grade 3/4: hypertension, diarrhea, perforation at jejunum, hemorrhage, colitis, pancreatitis, liver dysfunction, cholangitis, hematoma, neutropenia and proteinuria | |
Based on current findings, a further phase III studies (NCT02872116) was designed to evaluate double immunotherapy as an early line therapy for esophagogastric cancers, and is presently under way. For the PD-1 and chemotherapy combination, the NCT03189719 trial is ongoing to evaluate the efficacy and safety of pembrolizumab plus cisplatin and 5-fluorouracil (5-FU) chemotherapy versus placebo plus cisplatin and 5-FU chemotherapy as a first-line treatment in participants with locally advanced or metastatic esophageal carcinoma. In fact, the majority of trials in this field are still in exploratory phases involving a variety of combinations. While results are pending, current knowledge provides some optimism and the results are eagerly anticipated.
Gastric carcinoma
Hepatobiliary carcinoma
Another interesting research avenue which has emerged is around the impact of standards of care (SoC). Currently under way, a phase III clinical study is exploring this in more detail, focusing on the efficacy of PD-1 blockade combined with SoC compared with SoC alone for the treatment of previously untreated locally advanced or metastatic BTC. The primary hypothesis of the study is that participants will have a longer OS when treated with combined therapy than when treated with SoC alone, although this study may also provide insight into the interactions between SoC and PD-1 blockades which is also needed.
Pancreatic carcinoma
Previously presented evidence suggests that immunotherapy combined with PD-1/PD-L1 blockades may deliver favorable outcomes with durable responses for various types of cancer; however, pancreatic carcinomas remain refractory. Except for MSI-positive pancreatic cancers which accounts for approximately 1.2%, the efficacy of PD-1/PD-L1 blockades alone are unsatisfactory for most pancreatic cancers. Unfortunately, more than 10% of patients develop grade 3 and 4 AEs, which is likely to be at least partly be due to the unique microenvironments (TME) in the pancreas [
130
]. Pancreatic tumor tissues are characterized by excessive cancer-associated fibroblasts (CAFs), dense connective tissue, low vascular density, and insensitivity to ischemia and hypoxia. In addition, immunosuppressive immune cells, such as M2 macrophages, are found in tumor tissues which inhibit immune killer cells from effectively entering through the tumor matrix [
131
]. Potentially, combined immunotherapies could provide a solution to these problems by bolstering the immune response to pancreatic tumor development.
Presently, gemcitabine, albumin paclitaxel, and a monoclonal CD40 antibody combined with nivolumab are frequently used as pancreatic cancer interventions. These interventions act by destroying tumor matrices and by exposing more antigens, which promote lymphocyte infiltration. Cabiralizumab (FPA008) is an anti-CSF-1R antibody which can cause the depletion of tumor-associated macrophages (TAMs) which may provide additional benefit. As such, one recent study (NCT02526017) was designed specifically to evaluate the safety, tolerability, as well as the clinical benefit of cabiralizumab in combination with nivolumab in patients with selected advanced cancers, including pancreatic cancer. The study revealed lasting clinical benefit for five patients with advanced pancreatic cancer who were insensitive to a previously administered single-drug immunotherapy, including three patients with microsatellite stability (MSS). However, the sample size of the study was small (
n
 = 33), therefore these results ought be verified under stricter conditions, including a larger sample size based on a pre-trial calculation using best available evidence, and with an appropriate control group. Importantly, it is necessary to conduct this research focusing on those suffering pancreatic cancer specifically because of the refractory nature of this condition but also to explore therapeutic effects across stages.
A phase II clinical trial (NCT03336216) currently under way is focusing on the efficacy of cabiralizumab and nivolumab combined with or without chemotherapy specifically for the treatment of
advanced
pancreatic cancer. Chemotherapy in this particular trial includes paclitaxel, gemcitabine, irinotecan, or FOLFIRINOX. The researchers have proposed to recruit 160 patients which is substantially larger than previously mentioned NCT02526017 study, and to use PFS as the primary clinical endpoint. The potential benefit of PD-1/PD-L1 blockades combined with other therapeutic approaches has resulted in a number of trials focusing on resectable pancreatic cancer, broad line resectable pancreatic cancer, and advanced pancreatic cancer. Most of the trials being designed are again preclinical studies or early phase clinical research but hopefully findings from the aforementioned studies will develop this evidence base and drive higher level clinical research.
Colorectal carcinoma
An increasing number of clinical trials are currently under development and ongoing which provides some optimism. However, these combinations face a number of problems, such as the need for more comprehensive gene sequencing and the difficulty of accurately and rigorously classifying colorectal cancer patients to predict treatment efficacy. In addition, the use of the same treatment regimen for different patients may not improve prognoses due to significant differences among individual patients which suggest the need for personalized cancer care. However, in order for this to become a reality, studies need to be scaled up and studies ought to be designed to incorporate the subtle differences between participants, which one could argue is not the current state of play.
Conclusions and perspectives
The advantages of combined immunotherapy based on PD-1/PD-L1 blockades for various tumors appear to be the logical next step. Although, there are a great number of unknowns, including dose/response, safety, tolerability, durability, and indeed efficacy. How these new treatment options will be placed within the existing treatment framework is a concern. Researchers are endeavoring to answer these questions through rigorous clinical trials focusing on specific types of tumors and within specific populations at various stages of these diseases. Studies have found an increase in the proportion of immune-related adverse events after receiving combination therapy compared to monotherapies. Although, these generally include diarrhea, fatigue, and hypothyroidism, which are within a tolerable range and manageable [
17
].
The increasing the number of combination studies has highlighted beneficial antitumor effects in early clinical stages. However, results from several clinical trials found no enhanced benefit for the patients with advanced cancers. Moreover, administering combination immunotherapies has been found to increase treatment toxicity. In patients who received radiotherapy prior to treatment with PD-1 blockades, research has revealed that immune inflammation frequently and naturally recurs at the original site of irradiation. Therefore, as many of the current combined immunotherapeutic methods remain experimental, developing this evidence base is absolutely necessary.
Understanding the underlying mechanisms of each therapeutic combination as well as the subtleties of individual responses is required to avoid combination schemes which do harm. Ironically, combination immunotherapeutic models pose similar questions to traditional treatment: What is the ideal patient population for which combination? Is the required combination therapy sequential or concurrent? What timing and adjustment criteria can be used for continuous and combined interventions? What is the related safety and toxicity of each combination? All of these questions require a sophisticated evidence-base developed through mature theoretical foundations and basic medical research. Once small sample studies have been conducted, larger studies ought to be commenced as is currently occurring. However, at present, it would appear as though we are trying to improve outcomes by combining a possible best available treatment with a potential catalyst or less subtly, simply seeking compatible combinations. We must not overlook the fact that this is essentially combining an average of averages with yet another. More specific research is required with more comprehensive data collection if we are to treat individuals with more precision and sensitivity as is required for gastrointestinal malignancies. Further research should focus on markers as these may provide measurable trajectories to accurately predict the benefit of combination therapies.
Acknowledgements
Not applicable.
Funding
This work was supported by International Science and Technology Cooperation Projects (2016YFE0107100 and 2015DFA30650), CAMS Innovation Fund for Medical Science (CIFMS) (2017-I2M-4-003), Capital Special Research Project for Health Development (2014-2-4012), Beijing Natural Science Foundation (L172055), and National Ten-thousand Talent Program and Beijing Science and Technology Cooperation Special Award Subsidy Project. CAMS Initiative for Innovative Medicine (CAMS-2018-I2M-3-001).
Availability of data and materials
All data generated or analyzed during this study are included in this published article and its supplementary information files.
Ethics approval and consent to participate
Not applicable.
Consent for publication
Not applicable.
Competing interests
The authors declare that they have no competing interests.
Publisher's Note
Springer Nature remains neutral with regard to jurisdictional claims in published maps and institutional affiliations.
Open Access
This article is distributed under the terms of the Creative Commons Attribution 4.0 International License (
http://​creativecommons.​org/​licenses/​by/​4.​0/​
), which permits unrestricted use, distribution, and reproduction in any medium, provided you give appropriate credit to the original author(s) and the source, provide a link to the Creative Commons license, and indicate if changes were made. The Creative Commons Public Domain Dedication waiver (
http://​creativecommons.​org/​publicdomain/​zero/​1.​0/​
) applies to the data made available in this article, unless otherwise stated.