01.12.2017 | Case report | Ausgabe 1/2017 Open Access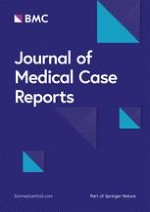 Combination therapies for the treatment of recurrent central giant cell lesion in the maxilla: a case report
Zeitschrift:
Autoren:

Jefferson Paulo de Oliveira, Fernanda Olivete, Naylin Danyele de Oliveira, Allan Fernando Giovanini, João César Zielak, Leandro Klüppel, Rafaela Scariot
Background
Central giant cell lesion (CGCL) is a benign proliferative and asymptomatic intraosseous lesion. It is more common in females, in the third decade, without predilection for race [
1
–
3
]. It accounts for approximately 7% of all benign lesions in the jaw. These lesions occur more frequently in the mandible than in the maxilla, and occur more frequently on the right side than on the left side [
4
,
3
]. In the maxilla, the lesion may invade the maxillary sinus floor, the orbit and/or nasal passages, which can lead to facial asymmetry, nasal deviation, and mobility of associated dental elements. CGCLs can be classified as aggressive or non-aggressive. Clinical, radiographic, and histological characteristics differentiate their level of aggressiveness and guide the treatment plan [
1
,
2
,
5
]. In image examinations, CGCL appears as a variation of small apical lesions to large radiolucent areas, which can be unilocular or multilocular, with a slight opacification within the lesion [
1
,
6
]. On histological examination, CGCL consists of cellular fibrous tissue with multiple foci of hemorrhage, multinucleated giant cell aggregates and, occasionally, trabecular bone tissue [
4
,
7
]. The treatment can be either conservative, with periodic corticosteroids infiltrations, or surgical, by enucleation or surgical resection. Although surgical treatment temporarily eliminates the lesion, clinicians need to be aware of its aggression and morbidity and the risk of relapse [
8
]. The objective of this case report is to describe the treatment of a recurrent CGCL in the maxilla, with the combination of different therapies based on clinical, radiographic, and histological characteristics.
Case presentation
Discussion
Conclusions
Given the above, the correct diagnosis of CGCL and its degree of aggressiveness is achieved through an analysis of clinical, radiographic, and pathological examinations. The treatment plan may vary from noninvasive therapies, such as medication, to surgical approach, wherein enucleation is proposed. There is also the possibility of a combination of techniques. The combination of two different therapies can be a good solution, since in some cases a single surgical approach leads to facial mutilation.
Acknowledgements
Not applicable.
Authors' contributions
JPO, FO, and NDO made the discussion of the case and article writing. AG and JCZ performed the histological analysis. RS and LK were responsible for surgery and infiltrations. All authors read and approved the final manuscript.
Competing interests
The authors declare that they have no competing interests.
Consent for publication
Written informed consent was obtained from the patient for publication of this case report and any accompanying images. A copy of the written consent is available for review by the Editor-in-Chief of this journal.
Open Access
This article is distributed under the terms of the Creative Commons Attribution 4.0 International License (
http://​creativecommons.​org/​licenses/​by/​4.​0/​
), which permits unrestricted use, distribution, and reproduction in any medium, provided you give appropriate credit to the original author(s) and the source, provide a link to the Creative Commons license, and indicate if changes were made. The Creative Commons Public Domain Dedication waiver (
http://​creativecommons.​org/​publicdomain/​zero/​1.​0/​
) applies to the data made available in this article, unless otherwise stated.