01.12.2017 | Case report | Ausgabe 1/2017 Open Access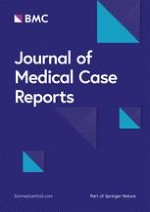 Combination therapy in a patient with chronic neuronopathic Gaucher disease: a case report
Zeitschrift:
Autoren:

Ferdinando Ceravolo, Michele Grisolia, Simona Sestito, Francesca Falvo, Maria Teresa Moricca, Daniela Concolino
Abbreviations
ACE
Angiotensin-converting enzyme
ERT
Enzyme replacement therapy
GD1, GD2, GD3
Gaucher disease types 1, 2 and 3, respectively
MCV
Median corpuscular volume
NGD
Neuronopathic Gaucher disease
SRT
Substrate reduction therapy
VSEM
Vertical saccadic eye movement
Background
Case presentation
Our patient was a 7-year-old Italian boy born after an uneventful gestation of normal duration. At the age of 16 months, he presented with a clinically evident enlarged abdomen and was referred for oncological examination. Initial tests revealed anemia, thrombocytopenia, and splenomegaly. A bone marrow biopsy revealed the presence of foam cells, which led to suspicion of lysosomal storage disease. Biochemical testing revealed elevated level of acid phosphatase (47.8 IU/L [normal range 5–7 IU/L]) and chitotriosidase activity (508 nmol/mg protein [normal range 5.9–41.0 nmol/mg protein]), as well as reduced beta-glucosidase activity (2 nmol/mg/protein [normal range 4.5–18.0 nmol/mg/protein]). Molecular analysis showed homozygous L444P mutations in the
GBA
gene (OMIM reference 606463), confirming the diagnosis of chronic NGD.
The patient began ERT at a dosage of 60 U/kg every 2 weeks at the age of 18 months. Thereafter, when the patient reached the age of 30 months, we decided to combine ERT with SRT with miglustat. This clinical decision was approved by our institution's ethics committee, and informed consent was obtained from the patient's parents before commencing combination therapy. The dose of miglustat was adjusted according to the patient's body surface area and was uptitrated during the first 4 weeks with the following scheme: one-third of target dose during weeks 1 and 2, two-thirds of target dose during weeks 3 and 4, and target dose (100 mg three times daily) after 1 month. From 2 weeks before starting miglustat therapy, the patient also followed specific dietary modifications, avoiding high intake of carbohydrate-containing food in single meals, especially foods high in disaccharides, such as sucrose and maltose, to ensure acceptable gastrointestinal tolerability. He experienced mild episodes of diarrhea after commencing miglustat therapy, which decreased in frequency/severity over time.
From the start of ERT/miglustat combination treatment, we observed a reduction in splenomegaly and a gradual normalization of hematological values and plasma angiotensin-converting enzyme activity (Table
1
). Plasma chitotriosidase was evaluated at the time of diagnosis and then approximately every 6 months during follow-up. Values showed an initial reduction after the start of ERT, with a further, substantial, and sustained decrease after commencement of miglustat treatment (Fig.
1
).
Table 1
Hematological and spleen parameters over time on treatment
| Age, months (time point) | Hb (g/dl) | PLT (×10 3 μl) | MCV (fl) | ACE (U/L) | Spleen diameter (cm) |
| --- | --- | --- | --- | --- | --- |
| 17 (diagnosis) | 10.7 | 185 | 60.3 | – | Enlarged |
| 18 (ERT) | 10.5 | 123 | 70.6 | 110 | 10.4 |
| 24 (SRT) | 12.2 | 289 | 67.5 | – | 11.0 |
| 32 | 12.3 | 225 | 71.1 | 90 | 9.5 |
| 39 | 12.7 | 222 | 70.6 | – | – |
| 45 | 12.3 | 246 | 74.9 | 90 | 9.7 |
| 51 | 12.7 | 256 | 79.6 | – | – |
| 59 | 12.7 | 342 | 74.6 | 75 | 8.8 |
| 65 | 12.4 | 235 | 75.4 | – | – |
| 72 | 12.8 | 261 | 77.4 | 48 | 9.5 |
| 80 | 13.5 | 312 | 78.7 | – | – |
×
The patient has been followed according to recommended guidelines for GD, which specify a complete neurological examination, clinical evaluation of ocular movements, and psychological evaluations every 6–12 months [
10
]. After 5 years of combination therapy and follow-up, the patient did not show any signs of neurological impairment. As of February 2016, he had not displayed any epileptic crises and had demonstrated clinical performance and cooperation. He showed good muscular tone and trophism, normal reflexes with a slight hyperreflexia in his legs, and a negative Romberg sign. His toe and heel deambulation was normal. In particular, ocular evaluations revealed no evidence of saccadic movement velocity reduction and normal visual evoked potentials. The patient's auditory brain responses were also normal. In addition, he has not demonstrated any cognitive impairment, and he has regularly attended school with good performance since the age of 5 years.
Discussion
Conclusions
This case supports the concept that the addition of oral miglustat to ongoing intravenous ERT may help prevent neurological deterioration in patients with chronic NGD. The importance of dietary modifications has also been confirmed. Further follow-up studies are needed to better define the therapeutic effect of combined treatment in this GD subtype.
Acknowledgements
Matthew Reilly, PhD, of InTouch Medical Ltd. (Watford, UK) provided editorial assistance in the preparation of the manuscript for submission, which was paid for by Actelion Pharmaceuticals Ltd. (Allschwil, Switzerland).
Funding
No funding was received for the conduct of this case study. Actelion Pharmaceuticals Ltd. paid for editorial assistance for the preparation of the manuscript.
Availability of data and materials
Not applicable.
Authors' contributions
FC co-ordinated all data collation, treated the patient, and wrote the first draft of the manuscript. MG, SS, FF, MTM and DC contributed patient clinical analyses, helped with data interpretation, and provided critical input into the draft manuscript. All authors read and approved the final manuscript.
Competing interests
The authors declare that they have no competing interests.
Consent for publication
Written informed consent was obtained from the patient's legal guardians for publication of this case report and any accompanying images. A copy of the written consent is available for review by the Editor-in-Chief of this journal.
Ethics approval and consent to participate
All procedures followed were in accordance with the ethical standards of the responsible committee on human experimentation (institutional and national) and with the Helsinki declaration of 1975, as revised in 2000.
Open Access
This article is distributed under the terms of the Creative Commons Attribution 4.0 International License (
http://​creativecommons.​org/​licenses/​by/​4.​0/​
), which permits unrestricted use, distribution, and reproduction in any medium, provided you give appropriate credit to the original author(s) and the source, provide a link to the Creative Commons license, and indicate if changes were made. The Creative Commons Public Domain Dedication waiver (
http://​creativecommons.​org/​publicdomain/​zero/​1.​0/​
) applies to the data made available in this article, unless otherwise stated.