01.12.2016 | Research article | Ausgabe 1/2016 Open Access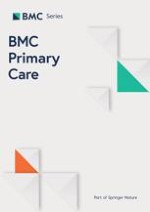 Combined assessment of clinical and patient factors on doctors' decisions to prescribe antibiotics
Zeitschrift:
Autoren:

Julia Strumiło, Sławomir Chlabicz, Barbara Pytel-Krolczuk, Ludmiła Marcinowicz, Dorota Rogowska-Szadkowska, Anna Justyna Milewska
Abstract
Background
Antibiotic overprescription is a worldwide problem. Decisions regarding antibiotic prescription for respiratory tract infections (RTIs) are influenced by medical and non-medical factors.
Methods
In family medicine practices in Białystok, Poland, family medicine residents directly observed consultations with patients with RTI symptoms. The observing residents completed a questionnaire including patient data, clinical symptoms, diagnosis, any prescribed antibiotic, and assessment of ten patient pressure factors.
Results
Of 1546 consultations of patients with RTIs, 54.26 % resulted in antibiotic prescription. Antibiotic prescription was strongly associated with rales (OR 26.90, 95 % CI 9.00–80.40), tonsillar exudates (OR 13.03, 95 % CI 7.10–23.80), and wheezing (OR 14.72, 95 % CI 7.70–28.10). The likelihood of antibiotic prescription was increased by a >7-day disease duration (OR 3.94, 95 % CI 2.80–5.50), purulent nasal discharge (OR 3.87, 95 % CI 2.40–6.10), starting self-medication with antibiotics (OR 4.11, 95 % CI 2.30–7.30), and direct request for antibiotics (OR 1.87, 95 % CI 1.30–2.80). Direct request not to prescribe antibiotics decreased the likelihood of receiving antibiotics (OR 0.34, 95 % CI 0.27–0.55).
Conclusion
While clinical signs and symptoms principally impact prescribing decisions, patient factors also contribute. The most influential patient pressure factors were starting self-medication with antibiotics, and directly requesting antibiotic prescription or no antibiotic prescription. Interventions aiming to improve clinical sign and symptom interpretation and to help doctors resist direct patient pressure could be beneficial for reducing unnecessary antibiotic prescribing.