10.07.2020 | Cornea | Ausgabe 11/2020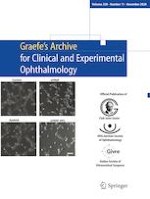 Combined corneal cross-linking and 320° intrastromal corneal ring segments in progressive keratoconus: one-year results
Autoren:

Adel Galal Zaky, Mahmoud Tawfik KhalafAllah, Abdelrahman Elsebaey Sarhan
Wichtige Hinweise
Adel Galal Zaky and Mahmoud Tawfik KhalafAllah equally contributed to this work.
Publisher's note
Springer Nature remains neutral with regard to jurisdictional claims in published maps and institutional affiliations.
Abstract
Background
Intrastromal corneal ring segments (ICRS) attain regularization of corneal surface in keratoconus (KC), while collagen cross-linking (CXL) halts or slows its progression. The long-arc 320° rings combined with CXL may have a dual-benefit synergistic effect of surface regularity and progression halt.
Methods
This was a prospective case series study including eyes with progressive KC. Femto-assisted 320° ICRS implantation and epi-off CXL 8 weeks later were carried out in all cases. Uncorrected (UCVA) and corrected distance visual acuity (CDVA) were assessed using Snellen's chart, while corneal tomography was evaluated using Scheimpflug imaging. Follow-up was carried out 3, 6, and 12 months after the CXL.
Results
Thirty-two eyes of 32 patients with progressive KC were included, 18 males and 14 females, and the mean age was 23.1 years. According to the Amsler-Krumeich classification, four eyes had stage 1 KC, 20 had stage 2 KC, and eight had stage 3 KC, and UCVA and CDVA improved from 0.1 ± 0.15 and 0.2 ± 0.19 to 0.4 ± 0.2 (
P
>  0.01) and 0.5 ± 0.2 (
P
>  0.01) respectively at 12 months. Manifest refraction spherical equivalent was reduced from − 5.6 ± 2.3 to − 1.1 ± 1.3 D at 12 months after the procedure (
P
>  0.01). In addition, maximum keratometry was significantly reduced from 54.8 to 49.3 diopters (
P
>  0.01), while the asphericity index (
Q
value) has changed from − 1.4 to − 0.25 (
P
>  0.01) after 12 months. No significant differences were detected between central (
n
 = 12) and eccentric (
n
 = 20) KC in all outcomes.
Conclusion
The 320° ICRS-CXL protocol has improved the visual and the tomographic outcomes at 1 year in our patients with progressive KC. No differences were detected between central and eccentric cases. Further larger studies could ensure the safety profile of the combined protocol.