25.05.2019 | Epidemiology | Ausgabe 1/2019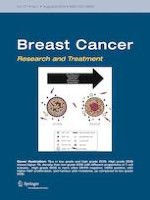 Combined effect of volumetric breast density and body mass index on breast cancer risk
Zeitschrift:
Autoren:

Natalie J. Engmann, Christopher G. Scott, Matthew R. Jensen, Stacey Winham, Diana L. Miglioretti, Lin Ma, Kathleen Brandt, Amir Mahmoudzadeh, Dana H. Whaley, Carrie Hruska, Fang Wu, Aaron D. Norman, Robert A. Hiatt, John Heine, John Shepherd, V. Shane Pankratz, Celine M. Vachon, Karla Kerlikowske
Wichtige Hinweise
Celine M. Vachon and Karla Kerlikowske have equally contributed to this work.
Publisher's Note
Springer Nature remains neutral with regard to jurisdictional claims in published maps and institutional affiliations.
Abstract
Background
Breast density and body mass index (BMI) are used for breast cancer risk stratification. We evaluate whether the positive association between volumetric breast density and breast cancer risk is strengthened with increasing BMI.
Methods
The San Francisco Mammography Registry and Mayo Clinic Rochester identified 781 premenopausal and 1850 postmenopausal women with breast cancer diagnosed between 2007 and 2015 that had a screening digital mammogram at least 6 months prior to diagnosis. Up to three controls (
N
 = 3535) were matched per case on age, race, date, mammography machine, and state. Volumetric percent density (VPD) and dense volume (DV) were measured with Volpara™. Breast cancer risk was assessed with logistic regression stratified by menopause status. Multiplicative interaction tests assessed whether the association of density measures was differential by BMI categories.
Results
The increased risk of breast cancer associated with VPD was strengthened with higher BMI for both premenopausal (
p
interaction
 = 0.01) and postmenopausal (
p
interaction
 = 0.0003) women. For BMI < 25, 25–30, and ≥ 30 kg/m
2
, ORs for breast cancer for a 1 SD increase in VPD were 1.24, 1.65, and 1.97 for premenopausal, and 1.20, 1.55, and 2.25 for postmenopausal women, respectively. ORs for breast cancer for a 1 SD increase in DV were 1.39, 1.33, and 1.51 for premenopausal (
p
interaction
 = 0.58), and 1.31, 1.34, and 1.65 (
p
interaction
 = 0.03) for postmenopausal women for BMI < 25, 25–30 and ≥ 30 kg/m
2
, respectively.
Conclusions
The effect of volumetric percent density on breast cancer risk is strongest in overweight and obese women. These associations have clinical relevance for informing prevention strategies.