01.12.2016 | Research | Ausgabe 1/2016 Open Access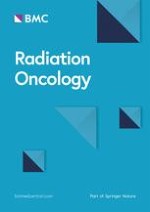 Combined sunitinib and radiation therapy for preoperative treatment of soft tissue sarcoma: results of a phase I trial of the German interdisciplinary sarcoma group (GISG-03)
Zeitschrift:
Autoren:

Jens Jakob, Anna Simeonova, Bernd Kasper, Ulrich Ronellenfitsch, Geraldine Rauch, Frederik Wenz, Peter Hohenberger
Abstract
Background
Experimental data demonstrated that concurrent anti-angiogenic treatment with sunitinib may improve the efficacy of radiation therapy (RT). Here we report the results of a phase I trial performed within the German Interdisciplinary Sarcoma Group (GISG-03) of combined sunitinib and RT for neoadjuvant treatment of locally advanced soft tissue sarcoma (STS).
Methods
The primary endpoint of the study was to explore the recommended dose of sunitinib combined with RT for subsequent trials. Treatment response, postoperative complications after tumor resection and toxicity according to CTCAE 4.0 were secondary endpoints. The study used a 3 + 3 design. Patients received either 25 mg (dose level 1) or 37.5 mg (dose level 2) sunitinib two weeks prior to and throughout RT (28 × 1.8 Gy). Surgery was scheduled 5–8 weeks after completion of neoadjuvant treatment. Study registration: NCT01498835.
Results
Six patients were enrolled in dose level 1 and three patients in dose level 2. Median tumor size was 11 cm. Tumors were located in the retroperitoneum (4/9), lower leg (3/9) or trunk (2/9). At dose level 1, 1/6 patients developed dose limiting lymphopenia. At dose level 2, no patient developed dose limiting toxicity. Most frequent toxicities were hematological (8/9) and oral (5/9). Dose adjustments of sunitinib were necessary in 5/9 patients. All patients received full dose RT and underwent tumor resection (8/9 R0 and 1/9 R1). Local toxicity of RT did not exceed Grade 2. 2/9 patients had postoperative complications requiring re-intervention. Treatment response according to RECIST was as follows: partial response 1/9, stable disease 7/9, and progressive disease 1/9. Pathological examination revealed ≥ 95 % tumor necrosis in 3/9 resected specimens.
Conclusions
Combined sunitinib and RT was tolerable as neoadjuvant treatment for locally advanced STS patients regardless of tumor localization. The recommended sunitinib dose for subsequent trials is 37.5 mg.