01.01.2012 | Original Paper | Ausgabe 1/2012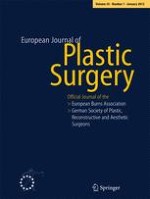 Combined superior crescentic total glandular augmentation mastopexy: report of 37 cases
Zeitschrift:
Autoren:

Erdem Güven, Ali Sakinsel, Karaca Başaran, Memet Yazar, Mehmet Bozkurt, Samet Vasfi Kuvat
Abstract
Methods of periareolar, donut, or crescentic patterns for augmentation mastopexy in mild to moderate ptosis cases are minimally invasive (short scar) options. In this article, we report a modified version of the classical crescentic technique of augmentation mastopexy, namely, "superior crescentic total glandular augmentation mastopexy". Thirty-seven patients with (a) breasts having mild to moderate ptosis (Regnault grades I–II), (b) breasts requiring less than 3 cm of nipple–areola elevation, and (c) mild skin elasticity were included in the study. During surgery, the mean size of 290 cc of silicon gel-filled implants were placed. The mean follow-up was 39 months ranging from 6 and 58 months. None of the patients had disastrous complications such as skin or nipple–areola necrosis. Poor scar healing and areolar asymmetry were the main problems encountered during follow-up. Ptosis recurrence (
n
 = 1), and capsular contracture (
n
 = 1) were the main reasons for revision surgery (5.4%). Five patients were re-operated on due to complications and implant change requirements (13.5% , total revisions). Mean suprasternal notch–nipple distance was recorded as 20.8 cm (19.3–22.4 cm) postoperatively. After an average time of 39 months, this distance was found to be 21.2 cm (20.1–23.2 cm) (the case with the recurrent ptosis was excluded). Superior crescentic total glandular augmentation mastopexy has yielded satisfactory results in patients with mild to moderate breast ptosis; therefore, it seems to be a valuable option in terms of minimally invasive augmentation mastopexy techniques.