01.12.2018 | Study protocol | Ausgabe 1/2018 Open Access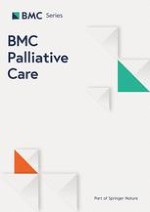 Comfort in palliative sedation (Compas): a transdisciplinary mixed method study protocol for linking objective assessments to subjective experiences
Zeitschrift:
Autoren:

Stefaan Six, Steven Laureys, Jan Poelaert, Johan Bilsen, Peter Theuns, Reginald Deschepper
Abstract
Background
In case of untreatable suffering at the end of life, palliative sedation may be chosen to assure comfort by reducing the patient's level of consciousness. An important question here is whether such sedated patients are completely free of pain. Because these patients cannot communicate anymore, caregivers have to rely on observation to assess the patient's comfort. Recently however, more sophisticated techniques from the neurosciences have shown that sometimes consciousness and pain are undetectable with these traditional behavioral methods. The aim of this study is to better understand how unconscious palliative sedated patients experience the last days of their life and to find out if they are really free of pain.
Methods
In this study we will observe 40 patients starting with initiation of palliative sedation until death. Assessment of comfort based on behavioral observations will be related with the results from a NeuroSense monitor, an EEG-based monitor used for evaluation of the adequacy of anesthesia and sedation in the operating room and an ECG-based Analgesia Nociception Index (ANI) monitor, which informs about comfort or discomfort condition, based on the parasympathetic tone. An innovative and challenging aspect of this study is its qualitative approach; "objective" and "subjective" data will be linked to achieve a holistic understanding of the study topic. The following data will be collected: assessment of pain/comfort by the patients themselves (if possible) by scoring a Visual Analogue Scale (VAS); brain function monitoring; monitoring of parasympathetic tone; caregivers' assessment (pain, awareness, communication); relatives' perception of the quality of the dying process; assessment by 2 trained investigators using observational scales; video and audio registration.
Discussion
Measuring pain and awareness in non-communicative dying patients is both technically and ethically challenging. ANI and EEG have shown to be promising technologies to detect pain that otherwise cannot be detected with the "traditional" methods. Although these technologies have the potential to provide objective quantifiable indicators for distress and awareness in non-communicative patients, strikingly they have not yet been used to check whether the current assessments for non-communicative patients are reliable.
Trial registration
The study is registered on ClinicalTrials.gov (Identifier:
NCT03273244
; registration date: 7.9.2017).