13.10.2018 | Original Article | Ausgabe 3/2019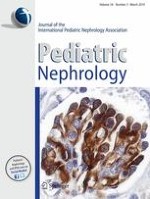 Common clinical markers predict end-stage renal disease in children with obstructive uropathy
Zeitschrift:
Autoren:

Daryl J. McLeod, Christina B. Ching, Yuri V. Sebastião, Jason H. Greenberg, Susan L. Furth, Kirk M. McHugh, Brian Becknell
Abstract
Background
Obstructive uropathy (OU) is a common cause of end-stage renal disease (ESRD) in children. Children who escape the newborn period with mild-to-moderate chronic kidney disease (CKD) continue to be at increased risk. The predictive ability of clinically available markers throughout childhood is poorly defined.
Methods
Patients with OU were identified in the Chronic Kidney Disease in Children Study. The primary outcome of interest was renal replacement therapy (RRT) (cases). Controls were age matched and defined as patients within the OU cohort who did not require RRT during study follow-up.
Results
In total, 27 cases and 41 age-matched controls were identified. Median age at baseline and age at outcome measurement were 10 vs. 16 years, respectively. First available glomerular filtration rate (GFR) (36.9 vs. 53.5 mL/min per 1.73 m
2
), urine protein/creatinine (Cr) (0.40 vs. 0.22 mg/mg) and microalbumin/Cr (0.58 vs. 0.03 mg/mg), and serum CO
2
(20 vs. 22 mmol/L) and hemoglobin (12.4 vs. 13.2 g/dL) differed significantly between cases and controls, respectively. GFR declined 3.07 mL/min per 1.73 m
2
/year faster in cases compared to that in controls (
p
 < 0.0001). Urine protein/Cr and microalbumin/Cr increased by 0.16 and 0.11 per year more in cases compared to those in controls, respectively (
p
 ≤ 0.001 for both). Serum phosphate increased by 0.11 mg/dL and serum albumin and hemoglobin decreased by 0.04 (g/dL) and 0.14 (g/dL) per year more for cases compared to those for controls, respectively (
p
 < 0.05 for all).
Conclusions
Age-specific baseline and longitudinal measures of readily available clinical measures predict progression to ESRD in children with mild-to-moderate CKD from OU.