01.12.2017 | Research article | Ausgabe 1/2017 Open Access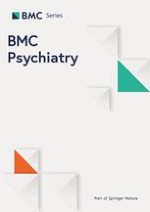 Community-based psychosocial interventions for people with schizophrenia in low and middle-income countries: systematic review and meta-analysis
Zeitschrift:
Autoren:

Laura Asher, Vikram Patel, Mary J De Silva
Wichtige Hinweise
Electronic supplementary material
Abbreviations
CBR
Community -based rehabilitation
DCP-3
Disease Control Priorities, 3rd Edition
LMIC
Low and middle-income countries
MHIN
Mental Health Innovations Network
NGO
Non-governmental organisation
PANSS
Positive and negative syndrome scale
PORT
Patient Outcomes Research Team
SMD
Standardised mean difference
WHO
World Health Organisation
Background
Methods
Systematic literature search
Eligibility criteria
Individual and cluster randomised controlled trials were included. Eligible interventions were any community-based psychosocial intervention delivered to people with schizophrenia or their caregivers with the aim of improving patient outcomes (see Additional file
1
). Studies set in urban and rural locations were included. Psychosocial interventions were defined as any intervention that focused on psychological and/ or social factors rather than biological factors (for example a pharmacological intervention). Interventions could have one or multiple components. Community-based interventions were defined as any intervention delivered in the participant's home or another community setting. Interventions that took place exclusively in health or other institutional facilities (hospitals, clinics, outpatient care centres or specialised care centres) were excluded. Papers without a full text available in English were excluded due to logistical constraints.
Information sources
Database searches were carried out on the 18th and 19th April 2016. The following databases were searched: Medline, EMBASE, PsycINFO, Global Health, CINAHL and Africa Wide information. In addition the Cochrane Library was searched for relevant systematic reviews. The included studies list of each relevant Cochrane review was searched for additional references not already identified in the previous database searches. The
Clinicaltrials.​gov
database was searched for relevant trials; for all trials identified, a search was carried out for relevant linked publications on the
clinicaltrials.​gov
database and on PubMed. The websites of organisations known to conduct relevant research projects and progammes, including BasicNeeds, CBM, and Sangath, were searched for relevant reports and studies. All innovation entries on the Mental Health Innovations Network (MHIN) database were reviewed for relevance and linked publications were sought on PubMed. MHIN is an online platform and database for sharing knowledge, experiences and resources relating to global mental health (
www.​mhinnovation.​net
). Reports and guidelines relating to mental health and development or CBR were reviewed for relevant programmes, including the World Health Organisation's (WHO) CBR guidelines [
21
], WHO report on Mental Health and Development [
28
] and the UK government Mental Health for Sustainable Development Report [
29
]. Relevant literature reviews relating to CBR [
27
], psychosocial interventions [
26
,
30
], task-sharing [
17
,
31
] and packages of care [
1
,
2
,
32
] for mental illness in LMIC were also reviewed for relevant references.
Search strategy
The search identified studies covering four domains: A: Schizophrenia or schizoaffective disorder + B: community-based psychosocial intervention + C: low or middle-income country + D: randomised controlled study. Additional file
2
presents the search strategy that was designed for Medline; minor modifications were made as required for other databases. A broad range of search terms were used for domain B, including terms relating to psychoeducation, adherence support, family support, rehabilitation, psychotherapy and counselling, self help groups, health promotion and community-based care. For domain C, separate terms were included for each LMIC, along with generic terms such as 'developing country'.
Study selection
The results of all database searches were downloaded to Endnote X7. Duplicates were removed and the titles and abstracts of the remaining records were screened for relevance. The full texts of those deemed to be relevant were acquired and reviewed. A final list of included eligible studies was compiled after reviewing the full text.
Data extraction and quality assessment
Key features and findings of each included study were extracted onto a specially designed database. Data were extracted on study characteristics (setting, design, number of participants randomised and duration of follow up), inclusion criteria, characteristics of the interventions (content, frequency and duration) and outcomes. The Cochrane Collaboration risk of bias tool was used to assess each included study [
33
]. A rating of low, high or unclear risk of bias was given for the following domains: sequence generation; allocation concealment; masking of assessors; selective outcome reporting; incomplete data and other source of bias. Blinding of participants and workers delivering the intervention was not possible due to the nature of the interventions, therefore this criterion was not used.
Statistical analyses were performed using Review Manager 5.3 for Mac. For outcomes measured on continuous scales, the post-treatment mean and standard deviation in the intervention and control groups were extracted along with the sample size in each group. Where these data were presented in the paper, the information was used to calculate the standardised mean difference (SMD) for each trial in order for different outcome scales to be pooled. SMD is a summary statistic that represents the size of the intervention effect in a study relative to the variability observed in that study. The following cut offs were used to guide interpretation of the strength of effect: 0.2 represents a "small" effect, 0.5 represents a "medium" effect, and 0.8 represents a "large" effect [
34
]. Due to absence of relevant data in the included papers, it was not possible to take into account differences in baseline scores between treatment groups, in the calculation of SMD. Where outcomes were presented as proportions, risk ratios were calculated. For any scale where an increase in score indicates worse outcome, mean scores or proportions were inverted before calculating the SMD or risk ratio. Acknowledging the heterogeneity in interventions, random effects meta-analyses were performed with all intervention types together along with subgroup meta-analyses for each intervention type separately. Meta-analyses were also performed separately for outcomes measured less than 18 months after the intervention ended and outcomes measured more than 18 months after the intervention ended. Heterogeneity between trials was assessed using the I
2
statistic. In order to understand the impact of study quality on the findings, a sensitivity analysis was conducted excluding studies perceived to have the highest risk of bias overall; these studies comprised those with a risk of bias for allocation concealment, or, for those with an unclear risk of bias for allocation concealment, those studies with a risk of bias for sequence generation or masking of outcome assessment [
30
]. Lastly, a funnel plot for symptom severity (the outcome utilised by the most studies (
n
= 7)) was generated to assess for publication bias.
Results
Discussion
Summary of findings
It is striking that all types of interventions, including psychoeducation on its own, produced a positive effect on functioning. This may be due to an improvement in symptoms. Other possible pathways to improved functioning are through the impact of improved social skills, improved self-esteem, greater caregiver support, reduced self-stigma or discrimination, or an increased sense of empowerment. However there was almost no assessment of these potential intermediary factors in the included studies. Where the outcomes of quality of life, family burden and perceived stigma were reported, there was less evidence for a beneficial effect of community-based psychosocial interventions.
Strengths and limitations
Strengths of this study include the inclusive inclusion criteria with respect to intervention content and the robust assessment of study quality. Capturing and synthesising the results of all relevant studies that share the core elements of home-based psychoeducation for schizophrenia in LMICs is a strength of this review. However, the interventions varied considerably in terms of content, intensity, duration and delivery personnel. While the interventions were divided into sub-groups for the meta-analysis, there was variation within groups and overlap between groups.
Whilst the search strategy captured the spectrum of intervention content that may be defined as a community-based psychosocial intervention, rehabilitation programmes based in specialist centres (e.g. [
52
]) were excluded. This was arguably an unhelpful division, which would not reflect the integrated programming and delivery of psychosocial interventions for schizophrenia in many settings. Outpatient-clinic based psychosocial interventions also represent an important component of services for people with mental illness in LMIC [
7
]. There is a growing evidence base for such interventions (e.g. [
53
,
54
]) that also requires systematic review. Other methodological limitations of this review include the single screening of records and exclusion of reports not published in English.
Implications
Another gap in the evidence relates to the scope of interventions. All interventions in this review focused mainly on health issues, with only some touching on social and livelihood elements through skills training. Furthermore there was little emphasis on community mobilisation, beyond the awareness-raising component mentioned in two studies. Where the intervention involved signposting to community resources, there was no detail on whether or how participants accessed these resources. These broader community mobilisation and rehabilitation components form some of the key elements of CBR, which is recommended as an appropriate approach for LMIC. As there is some evidence for the effectiveness of the included studies without these broader components, it is arguable that these elements are not required to achieve improvements in patient outcomes. However it is possible that in low-income settings with few formal health resources, no social security and where the impact of inability to work may be more profound, broader efforts to draw on local community resources and to address livelihood issues may have more relevance.
Conclusion
The limited evidence from low and middle-income countries supports the feasibility and effectiveness of community-based psychosocial interventions for schizophrenia, even in the absence of community mobilisation. Community-based psychosocial interventions should therefore be provided in these settings as an adjuvant service in addition to facility-based care for people with schizophrenia.
Acknowledgements
The authors are grateful to Carrie Brooke-Sumner for supporting development of an earlier version of the protocol.
Funding
Laura Asher is funded by a Wellcome Trust Clinical PhD Fellowship at the London School of Hygiene and Tropical Medicine (grant number: 100,142/Z/12/Z). The funders had no role in the study design or collection, management, analysis, and interpretation of data.
Availability of data and materials
The datasets used and/or analysed during the current study available from the corresponding author on reasonable request.
Ethics approval and consent to participate
Not applicable.
Consent for publication
Not applicable.
Competing interests
The authors declare that they have no competing interests.
Publisher's Note
Springer Nature remains neutral with regard to jurisdictional claims in published maps and institutional affiliations.
Open Access
This article is distributed under the terms of the Creative Commons Attribution 4.0 International License (
http://​creativecommons.​org/​licenses/​by/​4.​0/​
), which permits unrestricted use, distribution, and reproduction in any medium, provided you give appropriate credit to the original author(s) and the source, provide a link to the Creative Commons license, and indicate if changes were made. The Creative Commons Public Domain Dedication waiver (
http://​creativecommons.​org/​publicdomain/​zero/​1.​0/​
) applies to the data made available in this article, unless otherwise stated.