01.12.2015 | Research article | Ausgabe 1/2015 Open Access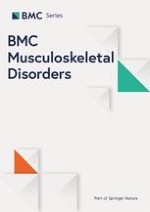 Comorbidities, intensity, frequency and duration of pain, daily functioning and health care seeking in local, regional, and widespread pain—a descriptive population-based survey (SwePain)
Zeitschrift:
Autoren:

Anna Grimby-Ekman, Björn Gerdle, Jonas Björk, Britt Larsson
Wichtige Hinweise
Electronic supplementary material
The online version of this article (doi:
10.​1186/​s12891-015-0631-1
) contains supplementary material, which is available to authorized users.
Competing interests
The authors declare that they have no competing interests.
Authors' contributions
AG-E, BL, and JB were in involved in study conception and study design. AG-E and BL performed the data analyses and drafted the manuscript. All authors discussed the results, commented on the manuscript, and approved the final version of the manuscript.
Background
Pain can be limited or cover more or less the entire body. In cohorts of patients with chronic pain it has been observed that such spreading can be associated with certain sociodemographic characteristics and aspects of lower health and quality of life. Hence, worse clinical pictures, including activity limitations and participation restrictions when widespread pain (WSP) was present, have been reported [
1
–
4
].
There are several population based studies investigating the prevalence of WSP and associated factors. One common way to indicate the spreading of pain is number of pain sites using a predefined manikin. For people with chronic low back pain (CLP), the extent of pain has recently been shown to be associated with low level of education, low social class, disability pension application, and clinical variables such as pain intensity and medical consultations [
5
]. A Norwegian population study reported that number of pain sites was linearly related to decreased function [
6
] and linked to future disability [
7
]. Identifying the number of painful sites as a way to assess the spreading of pain has some advantages in epidemiological studies, but this approach does not link population epidemiology to clinical medicine. This method of assessment does not take into consideration the anatomical distribution of the painful areas and may therefore have limited validity in the clinical context. Spatial categories frequently used in the clinical situation are instead local (LP), regional (RP) and widespread pain (WSP) [
8
,
9
]. Epidemiological studies using such an approach have focussed upon WSP, which generally has been defined according to the American College of Rheumatology (ACR) using a manikin: pain in two contralateral quadrants and in the axial skeleton present for at least three months [
10
]. Most studies have investigated
chronic
widespread pain (CWP), which may be relevant since the majority of WSP (>90 %) in the population appear to be chronic [
11
]. In the Western population, the prevalence of CWP is approximately 5–15 % and the prevalence of self-reported chronic pain is approximately 50 % [
12
–
16
]. Peripheral factors (e.g., trigger points) and central nervous alterations probably contribute to the initiating and perpetuating of CWP [
17
]
.
Epidemiological studies usually compare subjects with no pain with subjects with CWP, these studies do not provide knowledge of the broad range of pain conditions present in populations (i.e., the majority of the pain conditions). One population study, however, reported that health status discriminated between subjects with no pain, pain not defined as CWP, and CWP [
18
]. Another study found that CWP had a greater impact than chronic neck pain with respect to pain duration and working capacity [
19
].
Some population studies of chronic pain have investigated psychological co-morbidities [
20
–
22
] and a few studies have investigated physical co-morbidities [
23
]. For subjects with CWP one study has reported an increased risk for hospitalization [
24
]. Increased risk of dying of cancer and cardiovascular diseases during a 2-year follow-up period in CWP have also been found [
25
]. A better understanding is needed about the relationship between the spreading of pain and occurrence of a broad spectrum of comorbidities.
Although CWP - both in cohorts of patients and in population cohorts - is associated with a variety of negative consequences of the pain, few population studies have investigated whether, for example, general health, health care seeking behaviour, or demanding physical activity vary with respect to the whole range of pain spreading on the body. Although pain frequency and intensity have important implications with respect to health care seeking [
16
,
26
], these pain aspects are generally not elucidated in relation to the degree of spreading of pain.
Pain exhibits occasional, intermittent or constant symptoms and varies from barely perceptible to unbearable. Several clinical and population-based studies have reported that the spreading of pain varies over time [
27
]. Because knowledge about the spreading of pain and under what circumstances the spreading of pain increases, decreases, or remains unchanged is derived mostly from studies that were not specifically designed to examine these issues, definite conclusions are difficult to draw.
To this end, this study examines differences in sociodemographics and health aspects between individuals with different degrees of spreading of pain (defined as LP, RP, and WSP) and individuals who are pain-free to investigate whether spreading of pain is related to other pain aspects (frequency, intensity and duration) and implications of pain (i.e., work situation, physical activity, consumption of health care and experience of hospitality and treatment of health care).
The following research questions are addressed in this study, which is a report from a Swedish epidemiological project of pain in the community (SwePain):
Are there differences regarding sociodemographics, comorbidities, general health, and physical activities between individuals with and without pain?

Is the spreading of pain (defined as LP, RP, and WSP) associated with co-morbidities, limitation of professional work and daily chores, limitation of physical activity, increased health care seeking behaviours as well as pain intensity, frequency, and duration?

What pattern of transition between the three pain categories (LP, RP, and WSP) can be seen over a short period?
Methods
Results
Discussion
The most important results of this study are listed below.
Subjects with pain had lower educational levels, more comorbidities, decreased general health, and decreased physical activities than the pain-free subjects.

Differences in comorbidities, certain pain aspects, daily functioning and health care seeking in the three pain categories based on spreading of pain were found.

Low education, heart disease, hypertension, diabetes, decreased general health, increased medical consultation, high impact on work, and intense, frequent, and chronic pain were more frequent in WSP than in RP and LP.

Regarding impact of work and frequency and intensity of pain, RP was the intermediate group and LP was the least affected group.

There was no difference between LP and RP regarding education, general health, duration of pain, and health care consumption.

The proportion of women differed between the three pain categories; it was highest in WSP and lowest in LP. This difference was also the case for experience of hospitality and good treatment from health care: WSP rated this lowest and LP highest.

In the pain categories, proportions of married subjects, physical demanding activities, and complementary health care did not differ.

For both LP and WSP, a substantial transition to RP had occurred by the 9-week follow-up.
The higher prevalence of comorbidities and the pain itself might contribute to reports of decreased health, on average, among participants with pain. The limited time spent weekly on demanding physical activity among individuals with pain (Table
2
) may indicate that many individuals answering "yes" for pain present during the previous 7 days have pain severe enough to affect their daily life, a finding in line with previous research on subjects with pain [
18
,
32
,
33
]. Heart disease and hypertension were among the diseases that differed most between individuals with and without pain (Table
2
), a finding that coincides with previous epidemiologic research showing higher prevalence of hypertension in subjects with pain [
34
,
35
]. Several mechanisms of interaction between cardiovascular and pain regulatory systems and possible alterations in homeostatic feedback to restore elevation of blood pressure in pain have been suggested [
36
], although the literature is contradictory [
35
,
37
,
38
].
Because more than 90 % of WSP had chronic pain (pain for more than 3 months), our use of WSP is very similar to the way previous research has used CWP. In our study, the prevalence of WSP was 6 %, a percentage similar to what a British population study found (5 %), which used the Manchester definition for CWP [
12
]. The use of the Manchester definition of CWP correlates to a population prevalence of CWP lower than the use of the ACR criteria. Studies that defined CWP according to ACR criteria [
13
,
39
–
41
] found CWP prevalences of 11 %, 11 %, 15 %, and 12 %, respectively. Our study, when using ACR criteria to define WSP , found a slightly lower CWP prevalence (9 %) than these studies.
To the extent that heart disease in subjects reporting pain was equivalent to cardiovascular diseases (CVD), the findings coincide with earlier associations between CVD [
25
,
42
] and chronic pain. Heart diseases and hypertension were reported to be most frequent in WSP (Table
4
), a finding previously reported in CWP [
25
]. Painful diseases common in the general population, such as arthritis and osteoporotic fractures, are associated with elevated levels of CVD [
43
–
47
]. The overall occurrence of these diseases in the population might contribute to higher prevalence of CVD among individuals with pain. With respect to CVD [
48
] and to some extent chronic pain [
49
–
52
], there is support for pathogenic immune and inflammatory processes, but comorbidities may be independently linked to chronic pain [
53
]. Pain groups tend to have lower levels of education [
39
,
54
–
56
], a finding that may reflect the complexity of factors interacting with pain. Low education may indicate working situations associated with higher risks for developing pain conditions [
57
,
58
]. Individuals with less education tend to use less effective pain approaches [
59
]. That is, higher education might indicate better critical thinking skills that could help people make better health decisions and have more productive interactions with health care providers, all leading to better agency over one's health [
60
]. The proportion of low educational level was highest in WSP (Table
3
), a finding in line with previous studies [
54
,
61
] but in contrast to a study on CWP and local pain—that study found no significant difference in educational level between the groups [
2
].
Subjects with WSP also reported higher health care use related to pain in the last 12 months than subjects with RP or LP (Table
6
). Similarly, another study found that patients with widespread pain used primary health care services more often [
62
,
63
]. On the other hand, no increased use of medical services has reported in subjects with CWP compared to subjects with more localised pain (i.e. CLP) [
2
].
In our study, subjects with WSP - compared to subjects with LP and RP - reported pain as more persistent and more frequent (Table
5
). Similarly, Viniol and co-workers found these pain aspects to be more common in CWP than in subjects with CLP [
2
]. Subjects with WSP also reported significantly higher pain intensity than the two other pain categories (Table
5
), findings that agree with studies reporting significant inter-correlations between spreading of pain and pain intensity [
64
,
65
]. Furthermore, WSP was associated with the highest proportion of females (Table
3
) and the highest proportion of subjects with decreased ability to work (Table
6
), findings also reported in previous studies [
2
,
61
]. In our study, a large majority of subjects with WSP also reported decreased general health (Table
4
), a finding that is supported by several population-based studies [
18
,
66
,
67
]. Similarly, a case control study [
68
] reported significantly impaired overall health in subjects with CWP. The experience of hospitality and good treatment from medical care was lowest in the WSP group, at least partially reasonably reflecting a lack of satisfaction due to sparse effective treatment of WSP and the burden of the individuals to deal with extensive negative implications of pain. At the 9-week follow-up, none of subjects with previous WSP reported being pain free (Table
7
).
Spreading of pain has been linearly correlated to impaired function [
69
], pain duration, and pain severity, which are all very common in WSP. In a systematic review [
70
], these symptoms were associated with poor outcome of pain. In our study, two-thirds of the WSP subjects remained in the category at the follow-up. A previous study found that only one-third of CWP remained in the category at follow-up [
66
]. These findings indicate possible improvement or natural fluctuations in the pain condition for individuals in this highly burdensome pain condition. The difference (two-thirds versus one-third) in improving from widespread pain (WSP and CWP, respectively) could be related to our study's more rigorous definition of WSP. It is obviously not due to the fact that not all subjects in the present WSP group had chronic pain since >92 % had chronic widespread pain (Table
5
). The least burdensome pain was found in the LP group. At follow-up, however, nearly half of LP had moved to the RP category, a worse situation with respect to intensity and frequency of pain and influence of pain on work. After 9 weeks, the majority of the RP group remained in the same category and 3 % of the RP group had moved to WSP. A systematic review [
27
], however, found no convincing link between follow-up time and the proportion of subjects transitioning from RP to CWP.
The use of LP and RP in this study needs some further explanation. Although previous literature has used the terms local and regional pain, our study uses the terms in a slightly modified way. Previous epidemiological studies have used both regional and local pain to describe broad groups defined as having less spreading of pain than WSP. In our study, LP is a clear and well-defined group consisting of individuals with pain at single locations and regional pain is a broad group that is defined to be in between LP and WSP regarding spreading of pain. To a large extent, in our study RP represented an intermediate group between LP and WSP regarding pain aspects and consequences of pain. In future studies, it would be interesting to split the broad group of regional pain into subgroups of increasing spreading. Sub-grouping also has to pay attention to that a minority of subjects with RP can have a higher number of pain sites than some of the subjects with WSP, which is due to the definitions of WSP requiring both a certain number of pain areas and a certain distribution on the body of these pain areas. However, we consider it important that such subgroups of RP have face-validity in a clinical perspective. If the results then still hold and show clear differences between all the pain groups, this would strengthen our hypotheses of a close to continuous characteristic of pain described by increasing spreading.
We define pain as a subjective experience according to the International Association for the Study of Pain: pain is an unpleasant and emotional experience [
71
]. Thus, the pain categories—i.e., self-reported pain marked on a manikin—also reflect subjective experiences. Our approach means that natural fluctuations in the spreading of pain per se - e.g. due to neurobiological, psychological and social factors - are possibly well captured in the transition between pain categories over the 9-weeks between the first and second questionnaire. Undoubtedly, in our study a small change in pain spreading can imply a movement between pain categories, although this movement is only applicable for individuals close to a boundary of a pain category. From a clinical point of view, because it is most probable to see small changes in the spreading of pain over nine weeks, it is not surprising that the main movements in pain categories were from LP to RP and from WSP to RP. However, it cannot be excluded that also test-retest reliability of the pain manikin may influence the transitions between the three pain categories. A part of the reliability aspect may be that the subject forget areas with intermittent or less interfering pain and instead focus upon the areas with most intense pain intensity when reporting in the questionnaire. In order to better understand the natural fluctuations in spreading of pain more frequent registrations, e.g. every day or several times per week, can be used. In the clinical situation most patients with long standing problems are repeatedly assessed in order to make a clinical characterization of the pain condition.
A strength of our study is the use of weights calculated by Statistics Sweden, as this approach improves the representativeness of the estimated prevalence and comparisons. However, the strata for sick-leave means we used an approximately equal proportion of subjects with and without sick-leave for more than 45 consecutive days, and it is likely that the proportions in the general population are different. Therefore, estimated proportions of comorbidities are more precise than estimations of the secondary consequences and pain aspects associated with sick leave.
There are some limitations of the present epidemiological study. Due to the nature of data collection it is not possible to investigate specific pain conditions in relation to non-specific pain conditions. Unfortunately, there are no valid algorithms that can be used for identifying a broad spectrum of specific pain conditions (diagnoses) in postal questionnaires used within the field of epidemiology. Clinical examinations are needed for diagnosing specific pain conditions.
A methodological issue important to note is the large amount of pairwise comparisons included in the study, therefore a significance level of 0.01 was chosen rather than 0.05. This lower p-value was chosen as some inferential conclusions are drawn, even if the main aim of the study is of a more descriptive nature. The issue of multiple testing might therefore not be a major concern both due to the descriptive nature of the study, and due to the fact that many of the p-values appear in nice patterns, not randomly.
Conclusions
This study shows that there is an association between increased spreading of pain and prevalence of heart disease, hypertension, more severe pain characteristics (i.e., intensity, frequency and duration), problems with common daily activities and increased health care seeking. The most affected group was the WSP, the least affected group was the LP, and to considerable extent the intermediate group was RP. The transitions between the pain categories warrant future research that broadly investigates factors including reliabilty aspects that increase and decrease pain in the short- and long-term perspectives.
When clinically examining the patient with widespread pain it is important to pay attention to comorbidities in order to adequately plan treatments and interventions.
Acknowledgements
The Swedish Pain Foundation, Linköping University and The Medical Research Council of Southeast Sweden contributed financially to this study. The funding body did not take part in the collection, analysis, and interpretation of data, in the writing of the manuscript, or in the decision to submit the manuscript for publication.
Competing interests
The authors declare that they have no competing interests.
Authors' contributions
AG-E, BL, and JB were in involved in study conception and study design. AG-E and BL performed the data analyses and drafted the manuscript. All authors discussed the results, commented on the manuscript, and approved the final version of the manuscript.