01.12.2010 | Original Paper | Ausgabe 4/2010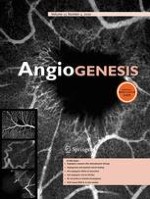 Comparative analysis of angiogenic gene expression in normal and impaired wound healing in diabetic mice: effects of extracorporeal shock wave therapy
Zeitschrift:
Autoren:

Stephen R. Zins, Mihret F. Amare, Douglas K. Tadaki, Eric. A. Elster, Thomas A. Davis
Wichtige Hinweise
The authors are employees of the US Government. This work was prepared as part of their official duties. Title 17 U.S.C. §105 provides that 'Copyright protection under this title is not available for any work of the United States Government.' Title 17 U.S.C §101 defined a US Government work as a work prepared by a military service member or employees of the US Government as part of that person's official duties. The views in this article are those of the authors and do not necessarily reflect the official policy of the Department of the Navy, Department of Defense nor the US Government. The experiments reported herein were conducted in compliance with the Animal welfare Act and in accordance with the principles set forth in the current edition of the
Guide for Care and Use of Laboratory Animals
, Institute for Laboratory Animal Resources, National Research Council, National Academy Press, 1996.
Stephen R. Zins and Mihret F. Amare contributed equally to this work.
Abstract
Impaired wound healing is a persistent clinical problem which has been treated with mixed results. Studies aimed at elucidating the mechanism of impaired wound healing have focused on small cohorts of genes which leave an incomplete picture of the wound healing process. We aimed to investigate impaired wound healing via a comprehensive panel of angiogenic/inflammation-related genes and wound closure kinetics with and without the application of extracorporeal shock wave therapy (ESWT), which has been demonstrated to improve wound healing. Full-thickness skin from the dorsal surface of "normal" (BALB/c) and "impaired" (
db
+
/
db
+
) mice was excised, and wound margin tissue was harvested 2, 7, and 10 days post injury. A separate, but identical wound model was established over 40 days in order to measure wound closure kinetics. Over time, the normal non-ESWT treated wounds exhibited varying patterns of elevated expression of 25–30 genes, whereas wounds with impaired healing displayed prolonged elevated expression of only a few genes (CXCL2, CXCL5, CSF3, MMP9, TGF-α). In response to ESWT, gene expression was augmented in both types of wounds, especially in the expression of PECAM-1; however, ESWT had no effect on wound closure in either model. In addition, multiple doses of ESWT exacerbated the delayed wound healing, and actually caused the wounds to initially increase in size. These data provide a more complete picture of impaired wound healing, and a way to evaluate various promising treatments.