01.03.2013 | Original Research | Ausgabe 1/2013 Open Access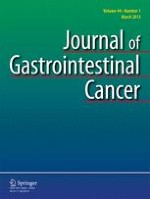 Comparative Effectiveness of Chemotherapy in Elderly Patients with Metastatic Colorectal Cancer
Zeitschrift:
Autoren:

Sacha Satram-Hoang, Luen Lee, Shui Yu, Sridhar R. Guduru, Ashokvardhan R. Gunuganti, Carolina Reyes, Edward McKenna
Wichtige Hinweise
Electronic supplementary material
The online version of this article (doi:
10.​1007/​s12029-012-9450-x
) contains supplementary material, which is available to authorized users.
Abstract
Purpose
Treatment advances have improved outcomes in clinical trials of patients with metastatic colorectal cancer (mCRC). Less is known about these effects for patients in real-world settings. This study evaluated treatment patterns and survival in older, demographically diverse patients with mCRC.
Methods
A retrospective cohort analysis was performed for 4,250 patients from January 1, 2000 to December 31, 2007 using linked Surveillance, Epidemiology, and End Results-Medicare database. Patients were ≥66 years, enrolled in Medicare parts A and B, and received first-line treatment with fluorouracil and leucovorin (5-FU/LV), capecitabine (CAP), 5-FU/LV plus oxaliplatin (FOLFOX), or CAP and oxaliplatin (CAPOX). Cox regression with backward elimination and propensity score-weighted Cox regression estimated relative risk of death. Date of last follow-up was December 2009. Statistical comparisons were made between 5-FU/LV vs. CAP and FOLFOX vs. CAPOX.
Results
Compared to 5-FU/LV, patients treated with CAP were older (mean age 78 vs. 76;
P
 < 0.0001) and more likely female (61 vs. 54 %;
P
 = 0.0017), while patients receiving CAPOX and FOLFOX were similar in age (mean age 74 vs. 73;
P
 = 0.0924). Complications requiring medical resource utilization following initiation of therapy were significantly higher among patients administered with 5-FU/LV (54 %) vs. CAP (17 %;
P
 < 0.0001) and FOLFOX (75 %) vs. CAPOX (57 %;
P
 < 0.0001). The multivariate analysis revealed no significant differences in survival between 5-FU/LV and CAP and between FOLFOX and CAPOX.
Conclusions
Overall survival was comparable between CAP and 5-FU/LV and between CAPOX and FOLFOX with fewer complications requiring medical resource utilization associated with CAP and CAPOX, thus confirming clinical trial results.