01.12.2015 | Research article | Ausgabe 1/2015 Open Access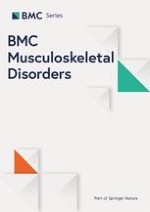 Comparative effectiveness of two different interbody fusion methods for transforaminal lumbar interbody fusion: cage versus morselized impacted bone grafts
Zeitschrift:
Autoren:

Chaoliang Lv, Xianzhou Li, Haicheng Zhang, Junrong Lv, Hongmei Zhang
Wichtige Hinweise
Competing interests
The authors declare that they have no competing interests.
Authors' contributions
CLL participated in the surgery, collected data and has written the paper. XZL and HCZ planned and conducted the surgery. JRL was involved in the planning of surgery and helped in writing the paper. HMZ assisted the surgery and compiled the data. All authors read and approved the final manuscript.
Abstract
Background
The use of an interbody fusion device (cage) to assist fusion and increase intervertebral stability is widely supported. We applied the morselized impacted bone graft method without using a cage in a single level interbody fusion with encouraging medium-term clinical results. The purpose of this paper is to compare the clinical and radiological results of local bone grafts with a cage to morselized impacted bone grafts without cage, in patients undergoing transforaminal lumbar interbody fusion (TLIF) surgery.
Methods
One hundred eighty-nine consecutive patients who underwent TLIF in our hospital were evaluated from July 2009 to July 2012. Eighty-four patients received TLIF and local bone graft with one polyetheretherketone (PEEK) cage, while 96 patients received the TLIF with local morselized impacted bone grafts without a cage. The clinical data and perioperative parameters of the patients in the two groups were recorded and compared.
Results
The mean follow-up time was 35 months. There were no significant differences in operation time and blood loss between the two groups. Single-level fusion was performed in all patients. There were no statistically significant differences between the two groups, according to the preoperative or postoperative Oswestry Disability Index (ODI) score. No statistically significant differences in fusion rate were observed between the two groups. At the final follow-up, the ratio of the disc height to vertebral height (HR) was not significantly different between the two groups.
Conclusion
Morselized impacted bone graft is as beneficial as local bone grafts with a cage for TLIF. Since the no cage procedure is less expensive, the morselized impacted bone graft is an affordable choice for single level TLIF, especially in less developed regions.