29.07.2017 | Original Article | Ausgabe 4/2017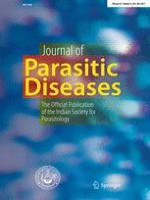 Comparative efficacy of commercial preparation of deltamethrin and cypermethrin against
Ornithodoros

spp. of North Gujarat
Zeitschrift:
Autoren:

Neelu Sharma, Veer Singh, K. P. Shyma, H. R. Parsani
Abstract
Ticks have massive capacity of acting as vectors of numerous pathogens that affect human, livestock and pets, which owes to their medical and veterinary importance. In animals, tick infestations are much more severe than in humans. Animals can be parasitized by hundreds or even thousands of ticks, which then proliferates the effect on the host. In almost all tropical and subtropical countries like India not only the hard ticks (Ixodidae) but also the soft ticks (Agrasidae) are responsible for economic losses either by direct injuries or disease transmission. Presently used control measure for ticks is only the use of commercially available acaricide compounds which are not much satisfactory and therefore a check on efficacy of these compounds is necessary for effective control. Commercially available preparations of deltamethrin (Butox, 1.25% E.C.) and cypermethrin (Ectomin, 10% E.C.) were compared for the acaricidal activity against soft ticks,
Ornithodoros moubata
by using Larval Packet Test. Larval mortality was higher with Butox as compared to Ectomin. Butox elicits 70% larval mortality, at the manufacturer's recommended dosage (25 ppm) while for Ectomin, larval mortality was 38.46% at the manufacturer's recommended dosage (200 ppm). This illustrates that deltamethrin (Butox) is more effective then cypermethrin (Ectomin).