15.10.2017 | Original Article | Ausgabe 1/2018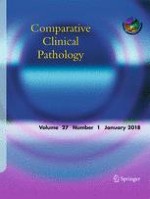 Comparative evaluation of the effects of batroxobin/calcium gluconate-activated platelet-rich plasma and calcium chloride-activated platelet-rich plasma on tibial fractures of Nigerian local dogs
Zeitschrift:
Autoren:

Theophilus Nnaji, Raphael Kene, Kennedy Chah, Edwin Uwagie Ero
Abstract
Variety of biological products has been applied to stimulate biologic factors and promote osteogenesis. In spite of this, surgeons are still facing challenges relating to fracture healing. The methods of preparation of these biologic factors influence their efficacy and should be evaluated and understood prior to their use in clinical trials. The use of batroxobin in platelet-rich plasma activation has been documented. This study was designed to evaluate the osteogenic effects of two platelet-rich plasmas prepared using different activating agents (batroxobin/calcium gluconate and calcium chloride alone) on tibia fractures of Nigerian local dogs. Nine healthy Nigerian local dogs (males) were used for the study. They were randomly assigned into three groups, viz, Plateltex-prepared platelet-rich plasma-treated (PPRP) group (
n
= 3); calcium chloride-activated platelet-rich plasma-treated (CPRP) group (
n
= 3); and normal saline-treated control group (CG), (
n
= 3). Transverse fractures were created aseptically on the left tibia of each animal under general anesthesia. The fractures were reduced and immobilized in a retrograde fashion using Steinmann intramedullary pins. Before closure, the PPRP fractures were treated with batroxobin/calcium gluconate-activated autologous PRP; CPRP fractures with calcium chloride-activated autologous PRP while the normal saline-treated control fractures were treated with normal saline. Radiographs of the fractures were taken at weeks 1, 2, 4, and 8 post treatments and the rate of healing evaluated subjectively and semi-quantitatively without bias. The PPRP dogs had better functional limb usage in terms of early weight bearing. Radiologically, there was however no statistical significant difference (
p
< 0.05) in the healing of the PPRP and CPRP fractures. Although CPRP demonstrated some osteogenic activities, it was of no statistical significance (
p <
0.05) when compared with the control. The better functional performance of the PPRP over that of the CPRP could be attributed to the greater efficiency of the batroxobin/calcium gluconate in Plateltex
®
kits.