13.07.2019 | Original Article | Ausgabe 6/2019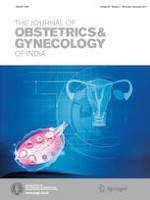 Comparative Study of Neoadjuvant Chemotherapy Followed by Definitive Chemoradiotherapy Versus Definitive Chemoradiotherapy Alone in Locally Advanced Carcinoma of Cervix
Zeitschrift:
Autoren:

Aradhna Tripathi, Shyamji Rawat
Wichtige Hinweise
Dr. Aradhna Tripathi, PG 3rd year, MD (radiation oncology), at Govt. Cancer Hospital, NSCBMC Jabalpur (Madhya Paradesh). Dr. Shyamji Rawat MD (radiotherapy) is a Professor in the Department of Radiotherapy and Oncology at Govt. Cancer Hospital NSCBMC Jabalpur (Madhya Pradesh).
Publisher's Note
Springer Nature remains neutral with regard to jurisdictional claims in published maps and institutional affiliations.
Abstract
Background
Carcinoma in the cervix is the most common malignancy and the fourth most common cause of death in females worldwide. It is the most common malignancy in India, the increasing incidence of cancer is escalating burden over radiation. This is a prospective randomized study comparing NACT followed by definitive chemoradiation versus chemoradiation.
Materials and Methods
This prospective randomized study analyzed 80 cervical cancer patients who were treated at our center during March 2017 and July 2018. Patients were divided into two arms: one received NACT and definitive CT/T and the other received definitive CT/RT. Statistical analysis was done using SPSS V.20 software.
Results
Overall response rate in our study was found to be 96.2%. In the study group, it was 97.5%, whereas in the control group, it was 95%. Majority of patients were in the age group 41–50 years, mainly stage IIb and IIIb. Tumor response in both the arms was similar and statistically significant (Chi
2
= 0.348;
p
> 0.05). The hematologic toxicities (
p
> 0.05) were more in the NACT group than in the CCRT group, while gastrointestinal toxicities were slightly higher in the control (statistically insignificant).
Conclusion
NACT with taxane/platin followed by definitive CT/RT is as effective as the standard care in the treatment of locally advanced cervical cancer. It has even shown better results (
p
value > .005) and is also helpful in reducing systemic micrometastasis and bulk of the disease. It can be used as an alternative to the standard care at the places of long waiting time for the definitive treatment, without compromising the outcome.