04.02.2019 | Original Article | Ausgabe 7/2019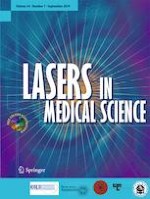 Comparative study on laser and LED influence on tissue repair and improvement of neuropathic symptoms during the treatment of diabetic ulcers
Zeitschrift:
Autoren:

Natália Aguiar Moraes Vitoriano, Daniela Gardano Bucharles Mont'Alverne, Maria Iara Socorro Martins, Priscila Sampaio Silva, Cristiany Azevedo Martins, Hortência Diniz Teixeira, Camylla Bandeira Miranda, Leila Maria Machado Bezerra, Renan Magalhães Montenegro Jr, José Carlos Tatmatsu-Rocha
Wichtige Hinweise
Publisher's note
Springer Nature remains neutral with regard to jurisdictional claims in published maps and institutional affiliations.
Abstract
To compare the influence of laser and LED on tissue repair and neuropathic symptoms during treatment of diabetic foot. An intervention survey conducted in a health center located in Brazil, contemplating ten sessions, twice a week, with randomization in two groups. In one group, the wounds were treated with GaAlAs laser, with a wavelength of 830 nm, 30 mW, and power density 0.84 W/cm2, the other group by LED 850 nm, 48 mW, and power density 1.05 W/cm2. For the analysis of wound size, photographic records analyzed by the ImageJ® software were used, and the neuropathy evaluation card examined. With regard to the laser group, a reduction in wound extension of 79.43% was observed at the end of the 10th session; the patients in the LED group had a 55.84% decrease in the healing process; comparing the two therapies was observed a better healing in the participants of the laser group, with 81.17%, in relation to the LED after the end of the sessions; regarding the evaluation of the neuropathic condition, there was a significant improvement in both therapies. There was improvement of the neuropathic signs and symptoms, also improvement of the tissue repair in the two therapeutic modalities; however, the laser presented a higher rate of speed in relation to the LED.