01.03.2014 | Original Article | Ausgabe 1/2014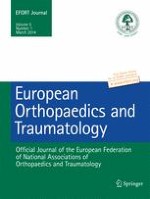 Comparative study on results of reconstructive surgery in 45 hip joints of 25 children with cerebral palsy
Zeitschrift:
Autoren:

Dmitry Popkov, Pierre Journeau, Arnold Popkov
Abstract
Purpose
Multilevel surgeries with hip reconstruction in children with cerebral palsy require low morbid surgical interventions. The aim of our study is to compare results of application of two locking plates in hip reconstructive surgeries in children with cerebral palsy (CP) from the point of view of efficiency and morbidity of the intervention.
Methods
We performed a prospective study on the results of 25 consecutive children with CP operated for hip reconstruction. The patients were divided into two groups according to the type of applied plate chosen at random. Group 1 (Synthes, LCP Pediatric Hip Plate) included 12 patients (22 hips) of an average age 6.2 years. Group 2 (Surfix, PSFE or PPSFE) included 13 patients (23 hips) of an average age 6.1 years. Thirteen acetabuloplasties were performed in group 1 and 15 acetabuloplasties in group 2. Duration of the procedure, amount of intraoperative blood loss, and hematogram indices before and in 24 h after surgery were compared. The following radiographic parameters were compared preoperatively and in 5–6 months of follow-up: acetabular index, projected neck shaft angle, Reimers index, and Wiberg angle.
Results
A statistically longer duration of surgery and more significant intraoperative blood loss were noted in group 1. Evaluation of radiograms did not reveal difference between the groups.
Conclusions
Results of hip reconstruction in children with severe forms of CP are satisfactory and reproducible in our series. Application of Surfix locking plates is associated with smaller volume of blood loss, and operation time is shorter.