01.11.2010 | 2010 SSAT Plenary Presentation | Ausgabe 11/2010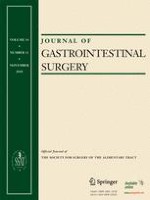 Comparing Complications of Esophagectomy and Pancreaticoduodenectomy and Potential Impact on Hospital Systems Utilizing the Accordion Severity Grading System
Zeitschrift:
Autoren:

Donald E. Low, MadhanKumar Kuppusamy, Yasushi Hashimoto, L. William Traverso
Wichtige Hinweise
Presented at the Annual Meeting of the Society for Surgery of the Alimentary Tract, New Orleans, LA, May 2, 2010
Discussant
Dr. Juan M. Sarmiento (Atlanta, GA): I want to congratulate the authors for this presentation of a fine paper and thank you for sending me the manuscript in advance. The study evaluates the availability of the Accordion system to find the usefulness of this grading procedure and to set the standard for longitudinal evaluation and compression with all institutions. It is very important in this current era of cost containment.
Basically, I have just one simple question.
Now that you have such a great result because you know the mortality and morbidity is just outstanding, do you think we should get a different format, a different table to evaluate the complications for a certain procedure, like esophagectomy, liver transplantation, pancreaticoduodenectomy, or we should put everybody on the main bag, and then start a comparison from there?
Closing Discussant
Dr. Donald Edward Low: I believe your question is aimed as to whether we should have a different approach for assessing complications in different operations. The goal of this particular study was to test the applicability of the Accordion Classification retrospectively in two very different procedures.
This study is of particular interest to our managers, who are already very happy with the results of pancreaticoduodenectomy and esophageal resection in our institution. Dr. Traverso and I had no idea how these operations compare with respect to outcomes and resource utilization.
The Accordion system provided a process that enabled us to take two very different procedures and compare them with respect to outcomes and complications, but also resource utilization and costs at our institution. We believe it will be easy to use this system in series done regionally, nationally, and internationally to provide better definition and consistency regarding the incidence and impact of complications in complex operations, which has not been possible in the past.
There are some current flaws within the Accordion system. I mentioned the fact that people with multiple complications will be understated because they are only given a single severity grade. I do believe this classification system provides us with something we have not had before. It provides us with an opportunity to reproducibly compare complications and ultimately resource utilization in a meaningful way.
Without Abstract