01.12.2018 | Research | Ausgabe 1/2018 Open Access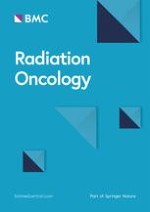 Comparing simultaneous integrated boost vs sequential boost in anal cancer patients: results of a retrospective observational study
Zeitschrift:
Autoren:

Pierfrancesco Franco, Berardino De Bari, Francesca Arcadipane, Alexis Lepinoy, Manuela Ceccarelli, Gabriella Furfaro, Massimiliano Mistrangelo, Paola Cassoni, Martina Valgiusti, Alessandro Passardi, Andrea Casadei Gardini, Elisabetta Trino, Stefania Martini, Giuseppe Carlo Iorio, Andrea Evangelista, Umberto Ricardi, Gilles Créhange
Abstract
Background
To evaluate clinical outcomes of simultaneous integrated boost (SIB) - intensity modulated radiotherapy (RT) in patients with non metastatic anal cancer compared to those of a set of patients treated with 3-dimensional conformal RT and sequential boost (SeqB).
Methods
A retrospective cohort of 190 anal cancer patients treated at 3 academic centers with concurrent chemo-RT employing either SIB or SeqB was analysed. The SIB-group consisted of 87 patients, treated with 2 cycles of Mitomycin (MMC) and 5-Fluorouracil (5FU) using SIB-IMRT delivering 42-45Gy/28–30 fractions to the elective pelvic lymph nodes and 50.4-54Gy/28-30fractions to the primary tumor and involved nodes, based on pre-treatment staging. The SeqB group comprised 103 patients, treated with MMC associated to either 5FU or Capecitabine concurrent to RT with 36 Gy/20 fractions to a single volume including gross tumor, clinical nodes and elective nodal volumes and a SeqB to primary tumor and involved nodes of 23.4 Gy/13 fractions. We compared colostomy-free survival (CFS), overall survival (OS) and the cumulative incidence of colostomy for each radiation modality. Cox proportional-hazards model addressed factors influencing OS and CFS.
Results
Median follow up was 34 (range 9–102) and 31 months (range 2–101) in the SIB and SeqB groups. The 1- and 2-year cumulative incidences of colostomy were 8.2% (95%CI:3.6–15.2) and 15.0% (95%CI:8.1–23.9) in the SIB group and 13.9% (95%CI: 7.8–21.8) and 18.1% (95%CI:10.8–27.0) in the SeqB group. Two-year CFS and OS were 78.1% (95%CI:67.0–85.8) and 87.5% (95%CI:77.3–93.3) in the SIB group and 73.5% (95%CI:62.6–81.7) and 85.4% (95%CI:75.5–91.6) in the SeqB, respectively. A Cox proportional hazards regression model highlighted an adjusted hazard ratio (AdjHR) of 1.18 (95%CI: 0.67–2.09;
p
 = 0.560), although AdjHR for the first 24 months was 0.95 (95%CI: 0.49–1.84;
p
 = 0.877) for the SIB approach.
Conclusions
SIB-based RT provides similar clinical outcomes compared to SeqB-based in the treatment of patients affected with non metastatic anal cancer.