01.04.2010 | Hepatobiliary Tumors | Ausgabe 4/2010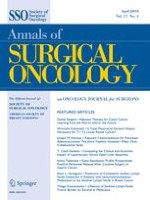 Comparing the Clinical and Economic Impact of Laparoscopic Versus Open Liver Resection
Zeitschrift:
Autoren:

MD, MBA Tsafrir Vanounou, PhD Jennifer L. Steel, MD, PhD Kevin Tri Nguyen, MD Allan Tsung, MD, MBA J. Wallis Marsh, MD David A. Geller, MD, MS T. Clark Gamblin
Wichtige Hinweise
This work was presented as an oral presentation at the 2009 SSO Annual Cancer Symposium in Phoenix, AZ, March 4–8, 2009.
Abstract
Background
Laparoscopic liver resection has thus far not gained widespread acceptance among liver surgeons. Valid questions remain regarding the relative clinical superiority of the laparoscopic approach as well as whether laparoscopic hepatectomy carries any economic benefit compared with open liver surgery.
Objective
The aim of this work is to compare the clinical and economic impact of laparoscopic versus open left lateral sectionectomy (LLS).
Methods
Between May 2002 and July 2008, 44 laparoscopic LLS and 29 open LLS were included in the analysis. Deviation-based cost modeling (DBCM) was utilized to compare the combined clinical and economic impact of the open and laparoscopic approaches.
Results
The laparoscopic approach compared favorably with the open approach from both a clinical and economic standpoint. Not only was the median length of stay (LOS) shorter by 2 days in the laparoscopic group (3 versus 5 days, respectively,
P
= 0.001), but the laparoscopic cohort also benefited from a significant reduction in postoperative morbidity (
P
= 0.001). Because the groups differed significantly in age and ratio of benign to malignant disease, a subgroup analysis limited to patients with malignant disease was undertaken. The same reduction in LOS and postoperative morbidity was evident within the malignant subgroup undergoing laparoscopic LLS (
P
= 0.003). The economic impact of the laparoscopic approach was noteworthy, with the laparoscopic approach US$1,527–2,939 more cost efficient per patient compared with the open technique.
Conclusion
Our study seems not only to corroborate the safety and clinical benefit of the laparoscopic approach but also suggests a fiscally important cost advantage for the minimally invasive approach.