01.12.2018 | Research article | Ausgabe 1/2018 Open Access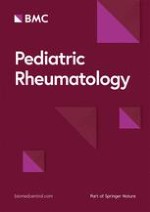 Comparing the importance of quality measurement themes in juvenile idiopathic inflammatory myositis between patients and families and healthcare professionals
Zeitschrift:
Autoren:

Heather O. Tory, Ruy Carrasco, Thomas Griffin, Adam M. Huber, Philip Kahn, Angela Byun Robinson, David Zurakowski, Susan Kim, the CARRA Juvenile Dermatomyositis Quality Measures Workgroup
Abstract
Background
A standardized set of quality measures for juvenile idiopathic inflammatory myopathies (JIIM) is not in use. Discordance has been shown between the importance ascribed to quality measures between patients and families and physicians. The objective of this study was to assess and compare the importance of various aspects of high quality care to patients with JIIM and their families with healthcare providers, to aid in future development of comprehensive quality measures.
Methods
Surveys were developed by members of the Childhood Arthritis and Rheumatology Research Alliance (CARRA) Juvenile Dermatomyositis Workgroup through a consensus process and administered to patients and families through the CureJM Foundation and to healthcare professionals through CARRA. The survey asked respondents to rate the importance of 19 items related to aspects of high quality care, using a Likert scale.
Results
Patients and families gave generally higher scores for importance to most of the quality measurement themes compared with healthcare professionals, with ratings of 13 of the 19 measures reaching statistical significance (
p
 < 0.05). Of particular importance, however, was consensus between the groups on the top five most important items: quality of life, timely diagnosis, access to rheumatology, normalization of functioning/strength, and ability for self care.
Conclusions
Despite overall differences in the rating of importance of quality indicators between patients and families and healthcare professionals, the groups agreed on the most important aspects of care. Recognizing areas of particular importance to patients and families, and overlapping in importance with providers, will promote the development of standardized quality measures with the greatest potential for improving care and outcomes for children with JIIM.