05.06.2019 | Original Article | Ausgabe 6/2019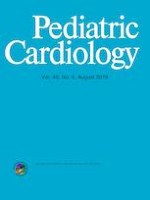 Comparison Between Nomograms Used to Define Pediatric Aortic Arch Hypoplasia: Retrospective Evaluation Among Patients Less Than 1 Year Old with Coarctation of the Aorta
Zeitschrift:
Autoren:

Emrah Şişli, Sevinç Kalın, Osman Nuri Tuncer, Mehmet Fatih Ayık, Hüdaver Alper, Reşit Ertürk Levent, Hatice Şahin, Yüksel Atay
Wichtige Hinweise
Note that some of the data of this study were orally presented (SS-164) in the 15th National Congress of the Turkish Society of Thoracic and Cardiovascular Surgery which was held between 26–29 October 2018 at Antalya, Turkey.
Abstract
Although various modalities are currently in use to define pediatric aortic arch hypoplasia (AAH), there is little uniformity among them. We aimed to determine the inter-rater strength of agreement of the nomograms in a survey of patients less than 1 year old, who had undergone coarctation of the aorta (CoA) repair with or without AAH. This retrospectively designed study comprised of 105 patients with CoA, who had been evaluated between 2008 and 2018 by means of a computed tomography angiogram. Through re-estimation of the aortic arch segmental diameters, the
z
scores were calculated using three nomograms (Cantinotti, Pettersen, Lopez). Along with a
t
test and Pearson's correlation coefficient, a linear regression analysis, Bland–Altman plots, and Cohen's kappa
k
value were used to evaluate inter-rater strength of agreement. The mean age and weight of the cohort was 73.3 ± 81.2 days and 4.2 ± 1.6 kg, respectively. Sixty-four (61%) patients were neonates. The
z
scores of the nomograms for each aortic arch segment were significantly different. Although there was a significantly positive correlation between the nomograms with their related aortic arch diameter, the differences in
z
scores revealed considerable deviations in the scatter plot diagrams. The mean difference of
z
scores was significantly different from the testing value of zero, which was also presented in Bland–Altman plots. None of the comparisons reached a kappa
k
value of > 0.9. The current nomograms do not reveal an acceptable level of agreement for the definition of the AAH. The question is which modality to rely on when deciding on the surgical approach and technique of CoA repair to address the hypoplastic aortic arch segment. Decisions about the surgical approach and the technique of repair warrant a reliable definition of AAH. It is high time that a consensus is reached in this regard.