01.12.2015 | Research article | Ausgabe 1/2015 Open Access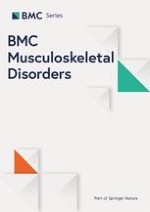 Comparison between the effects of progesterone versus corticosteroid local injections in mild and moderate carpal tunnel syndrome: a randomized clinical trial
Zeitschrift:
Autoren:

Mohammad Hassan Bahrami, Shadi Shahraeeni, Seyed Ahmad Raeissadat
Wichtige Hinweise
Competing interests
The authors declare that they have no competing interests.
Authors' contributions
Conceived and designed the experiments: SAR, SS and MHB. Analyzed the data: SAR and SS. Wrote the first draft of the manuscript: SAR and SS. Contributed to the writing of the manuscript: MHB. Agree with manuscript results and conclusions: SAR and MHB. Jointly developed the structure and arguments for the paper: SAR. Made critical revisions and approved final version: SAR and MHB. All authors reviewed and approved of the final manuscript.
Abstract
Background
The objective of this study was to compare the short-term effects of progesterone and corticosteroid local injections in the treatment of female patients with carpal tunnel syndrome.
Methods
A randomized clinical trial was used for this study, 60 hands with mild and moderate Carpal Tunnel Syndrome categorized in two groups were used for this study. Patients were treated with a single local injection of triamcinolone acetonide in one group and single local injection of 17-alpha hydroxy progesterone in the other group. Variables such as pain (based on Visual Analogue Scale), symptom severity and functional status (based on Bostone/Levine symptom severity and functional status scale) and nerve conduction study were evaluated before and 10 weeks after the treatments.
Results
Ten weeks after treatment, pain severity and median nerve sensory and motor latencies decreased while patients' functional status increased meaningfully in both groups. However, there were no meaningful differences between two groups regarding mentioned variables. Pain severity was milder and duration of post-injection pain was shorter in the corticosteroid group. The rates of patient satisfaction were also meaningfully higher in the corticosteroid group.
Conclusions
Both treatments were effective in the short-term management of mild and moderate disease, clinically and electrophysiologically. There were no significant differences in therapeutic effects between two groups.