01.12.2018 | Research article | Ausgabe 1/2018 Open Access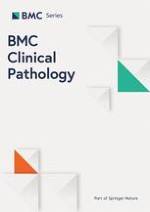 Comparison of a microsphere-based platform with a multiplex flow cytometric assay for determination of circulating cytokines in the mouse
Zeitschrift:
Autoren:

Alain Stricker-Krongrad, Catherine Shoemake, Miao Zhong, Jason Liu, Guy Bouchard
Abstract
Background
Measuring expression profiles of inflammatory biomarkers is important in monitoring the polarization of immune responses; therefore, results should be independent of quantitation methods if they are to be accepted as validated clinical pathology biomarkers. To evaluate effects of differing quantitation methods, the seven major circulating Th1/Th2/Th17 cytokines interleukin 2 (IL-2), interferon γ (IFN-γ), tumor necrosis factor α (TNF-α), IL-4, IL-6, IL-10 and IL-17A were quantified in plasma of lipopolysaccharide (LPS)-treated mice with two different multiplex platforms.
Methods
Female C57BL6 mice were treated orally with vehicle or dexamethasone, followed by LPS intravenously. Plasma samples were analyzed 0.5, 1, 2, 4, and 6 h post-LPS challenge with assays at Myriad-RBM and compared to assays performed on a BD Accuri C6 flow cytometer.
Results
IL-17A response to LPS was limited but sustained, and the response for the remaining cytokines were early and transient; dexamethasone reduced expression of all 7 cytokines. TNF-α and IL-6 levels were similar across both assays, and IL-4 levels were generally very low. Plasma levels of remaining cytokines were variably lower with BD assays than Myriad-RBM assays.
Conclusions
The present findings demonstrate that quantitation of circulating biomarkers of inflammation can be achieved using multiplexed flow cytometry, but careful consideration must be taken for assay validation when cross-referencing with another multiplexed assay.