08.04.2018 | Original Article | Ausgabe 5/2018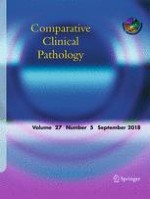 Comparison of anticancer effects of everolimus-gemcitabine combination with gemcitabine on pancreatic cancer using Rgs16 biomarker evaluation
Zeitschrift:
Autoren:

Yalda Zolghadri, Mehdi Fazeli
Abstract
Pancreatic cancer is a highly metastatic cancer with an exceptionally poor prognosis. Despite development of different drugs and combined therapies, advances in survival rate still remain low and slow, mainly due to the invasiveness and late diagnosis. Therefore, it is crucial to find an effective treatment for invasiveness. The first-line therapy for pancreatic cancer is gemcitabine. Everolimus is another drug with benefits in gemcitabine-refractory metastasis.
Rgs16
has a role in inhibition of pancreatic cancer migration and invasion. Accordingly, we aimed to investigate to which extent a combination of everolimus and gemcitabine is effective in killing highly metastatic pancreatic cancer cells and alter the expression of
Rgs16
indicating its usefulness in invasiveness. Gemcitabine, everolimus, and a combination of both drugs were added to cultured Panc-1 cells. The cell killing effects of the drugs were tested through alamar blue assay and cell count. The expression of
Rgs16
gene and protein was measured by qPCR and Western blotting. This study showed that a combination of everolimus and gemcitabine is more potent than everolimus, which is more effective than gemcitabine, in killing pancreatic cancer cells. However,
Rgs16
as a marker of invasion was very low in Panc-1 cells and the drugs were not effective in altering
Rgs16
gene expression or protein level. Although this may suggest that Panc-1 is a very invasive cell line and these drugs are not effective in highly metastatic cases, the cell line might be resistant to
Rgs16
expression due to its specific mutations.