01.09.2009 | Originalarbeit | Ausgabe 6/2009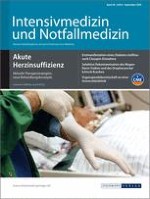 Comparison of automated protocol-based versus non-protocol-based physician-directed weaning from mechanical ventilation
A controlled clinical trial
Zeitschrift:
Autoren:

C. Stahl, G. Dahmen, A. Ziegler, M.D. E. Muhl
Abstract
Rationale and objectives
In the weaning of patients from mechanical ventilation by gradually reducing pressure support ventilation (PSV), an automated computerized system recently proved to be superior to traditional physician-directed weaning. The aim of this study was to replicate these findings when weaning a broad surgical intensive care unit (ICU) patient population off the ventilator.
Methods and measurements
Sixty patients requiring mechanical ventilation over 24 h were randomized to either automated (n = 30) or physician-directed (n = 30) weaning. The primary endpoint was duration of weaning. Secondary endpoints were duration of mechanical ventilation, length of ICU stay, reintubation rates, and workload for staff.
Results
Weaning duration did not differ significantly between the computer-driven group and the physician-directed group (0.64 vs. 2.33 d, 95%CI: -0.10 to 2.15, p = 0.167). No significant differences were detected for any secondary endpoint except the workload for PSV settings, which was lower in the computer-driven weaning group (0.0 vs. 0.15 settings/h, p < 0.0001). The trial was stopped early because sample size recalculations based on a Pocock design showed it would be pointless to continue.
Conclusions
Computer-driven weaning was not different from traditional physician-directed weaning from mechanical ventilation. Therefore, it cannot be recommended for routine use in a broad surgical ICU patient population.