01.12.2012 | Research | Ausgabe 1/2012 Open Access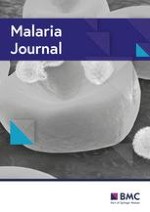 Comparison of CareStart™ HRP2/pLDH COMBO rapid malaria test with light microscopy in north-west Ethiopia
Zeitschrift:
Autoren:

Beyene Moges, Bemnet Amare, Yeshambel Belyhun, Zinaye Tekeste, Muchiye Gizachew, Meseret Workineh, Amare Gebrehiwot, Desalegn Woldeyohannes, Andargachew Mulu, Afework Kassu
Wichtige Hinweise
Competing interests
The authors declare that they have no competing interests.
Authors' contribution
BM was involved in the study conception and design, data analysis, and drafting the manuscript. AK, AM BA, YB and ZT were involved in study conception and design and drafting the manuscript. MG, AG and DW were involved in data collection and reviewing the manuscript. All the authors have read, edited and approved the manuscript.
Abstract
Background
In Ethiopia, light microscopy is the gold standard for malaria diagnosis although it is not available in most peripheral health facilities. It is time consuming, requires trained personnel and needs careful preparation and application of reagents to ensure quality results. This study was aimed at testing the diagnostic performance of CareStart™ malaria rapid diagnostic test (RDT) with reference to light microscopy for the diagnosis of falciparum and vivax malaria in Ethiopia.
Methods
Blood samples were collected from 254 patients suspected to have malaria at Kola Diba Health Center in the late malaria transmission peak season from November 2011 to December 2011. The samples were examined immediately by light microscopy and the RDT (CareStart™ Malaria HRP2/pLDH COMBO Test kit). Statistical analysis was performed using SPSS version 16 and the JavaStat two-way contingency table analysis.
Results
The overall sensitivity and specificity of CareStart
TM
RDT was found to be 95% (90–97.9%, 95% CI) and 94.2% (90.9–96%, 95% CI), respectively. The sensitivity of the CareStart
TM
RDT for
Plasmodium falciparum
or mixed infection was calculated to be 92.9% (82.5–98%, 95%CI) while a sensitivity of 90.9% (74.1–98.4%, 95%CI) was found for non-
falciparum
species. The specificity for
P. falciparum
or mixed infections was found to be 95.4% (92.5–96.8%, 95%CI) while it was 97.3% (94.8–98.4%, 95%CI) for non-
falciparum
species. There was an excellent agreement between the two tests with a kappa value of 0.918.
Conclusion
The CareStartTM RDT test showed good sensitivity and specificity with an excellent agreement to the reference light microscopy. The RDT could therefore be used in place of light microscopy, which in poor set-ups cannot be used routinely.