01.12.2012 | Technical innovations | Ausgabe 1/2012 Open Access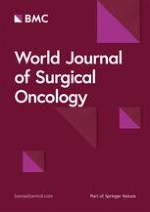 Comparison of efficacy of different route of administration of chemotherapy on unresectable, advanced gastric cancer
Zeitschrift:
Autoren:

Caihua Zhang, Guoli Li, Chaogang Fan, Jian Xu, Jianmin Cao, Shen Liu, Ning Li
Wichtige Hinweise
Electronic supplementary material
The online version of this article (doi:
10.​1186/​1477-7819-10-162
) contains supplementary material, which is available to authorized users.
Competing interests
The authors declared that they have no competing interests.
Authors' contribution
GLL was the lead author and surgeon for all of the patients. SL undertook the literature research. CHZ and SL gathered information on the patients and contributed to writing of the paper.CGF and NL were the co-surgeon on the cases. JX, JMC and SL performed the data and statistical analysis. CHZ prepared the manuscript. All authors read and approved the final manuscript.
Abstract
Background
The aim of this study was to compare the efficacy of two neoadjuvant chemotherapies (FLEEOX and XELOX) with different routes of administration for unresectable gastric cancer.
Methods
A total of 85 patients with unresectable gastric cancer hospitalized from January 2007 to December 2009 received neoadjuvant chemotherapy. The FLEEOX group (48 patients) received the FLEEOX regimen(fluorouracil, leucovorin, epirubicin, epotoside, and oxaliplatin), which combined arterial with venous administration for one or two cycles, while the XELOX group (37 patients) received XELOX (capecitabine plus oxaliplatin) via venous administration for two to four cycles. The clinical response and overall survival of the two groups were compared.
Results
In the FLEEOX group, the clinical response rate (RR) of chemotherapy was 85.4% (41 of 48 patients) and the median survival time was 25 months. The 1-year and 2-year disease-free survival (DFS) rates were 85.4% and 45.8%, respectively. In the XELOX group, the clinical RR was 59.5% and the median survival time was 9 months, while the 1-year and 2-year survival rates were 35.2% and 8.3%, respectively. The clinical RR, the R0 resection rate, the median survival time, and the 1-year and 2-year DFS rates were significantly better (
P <
0.05) in the FLEEOX group than in the XELOX group. In addition, there were no significant differences in the rates of toxic and adverse reactions or post-operative complications between the two groups.
Conclusions
For patients with a preoperative diagnosis of unresectable gastric cancer, the efficacy of the FLEEOX regimen, which combines arterial with venous administration, was better than that of the XELOX regimen, using venous administration only. This combination of arterial and venous administration could be useful for improving the efficacy of neoadjuvant chemotherapy for gastric cancer.